December 5, 2021
Worship Guide
This guide is designed for at least one family member to follow online to play audio for hymn tunes and the sermon. Others can follow along at guide.highdeserturc.org using their own devices, or using printed copies.
Need help with the Worship Guide? Have a suggestion? Email us.
NEW — Holiday Potluck on Sunday, December 19 after second service. We'll have use of the park outside the Community Center. Please contact Teri Morrison for the signup sheet.
TODAY — Men's Fellowship. We'll gather again at the Morrisons' place right after the second service.
All members: our yearly congregational meeting will be held on Sunday, December 12 after the first service. All members are required to attend. If you cannot attend, please contact Pastor Tom for an absentee ballot. (All distant members should have received absentee ballots by email from Pastor Tom. If you didn't, please contact him.) We'll be voting on the proposed budget for 2022, which you can download on the Members' page. (Contact Pastor Tom if you need the password.)
Wednesday, December 15 at 7 pm — last Bible Study for the fall. We are reading The Christian's True Identity by Jonathan Landry Cruse. Please read chapters 9 and 10 before our meeting on December 15. We are meeting at the Morrisons' place and will also provide a Zoom link over Remind.
---
All members: schedule your home visitation if you haven't already! Pastor Tom and Elder Marty or Elder Joseph can visit you at home or online via Zoom. Schedule now ›
---
High Desert United Reformed Church · Hymns for December 5, 2021
Call to Worship
One person can pray:
We thank you, our God and Father, for coming to save us in Christ when we were dead in our sins and transgressions. We rejoice in this Advent season for Christ's first coming and look forward to his second coming. Help us this morning to seek Christ as he speaks to us in his Word. Comfort us in him and may our worship reflect proper gratitude for the Gospel of Jesus Christ. In the name of Christ we pray, amen.
Doxology
Sing together:
Praise God from whom all blessings flow; Praise him, all creatures here below; Praise him above, ye heav'nly host; Praise Father, Son, and Holy Ghost. Amen.
Hymn of Praise: My Heart Does Overflow
Listen to the tune (plays through all verses, with intro):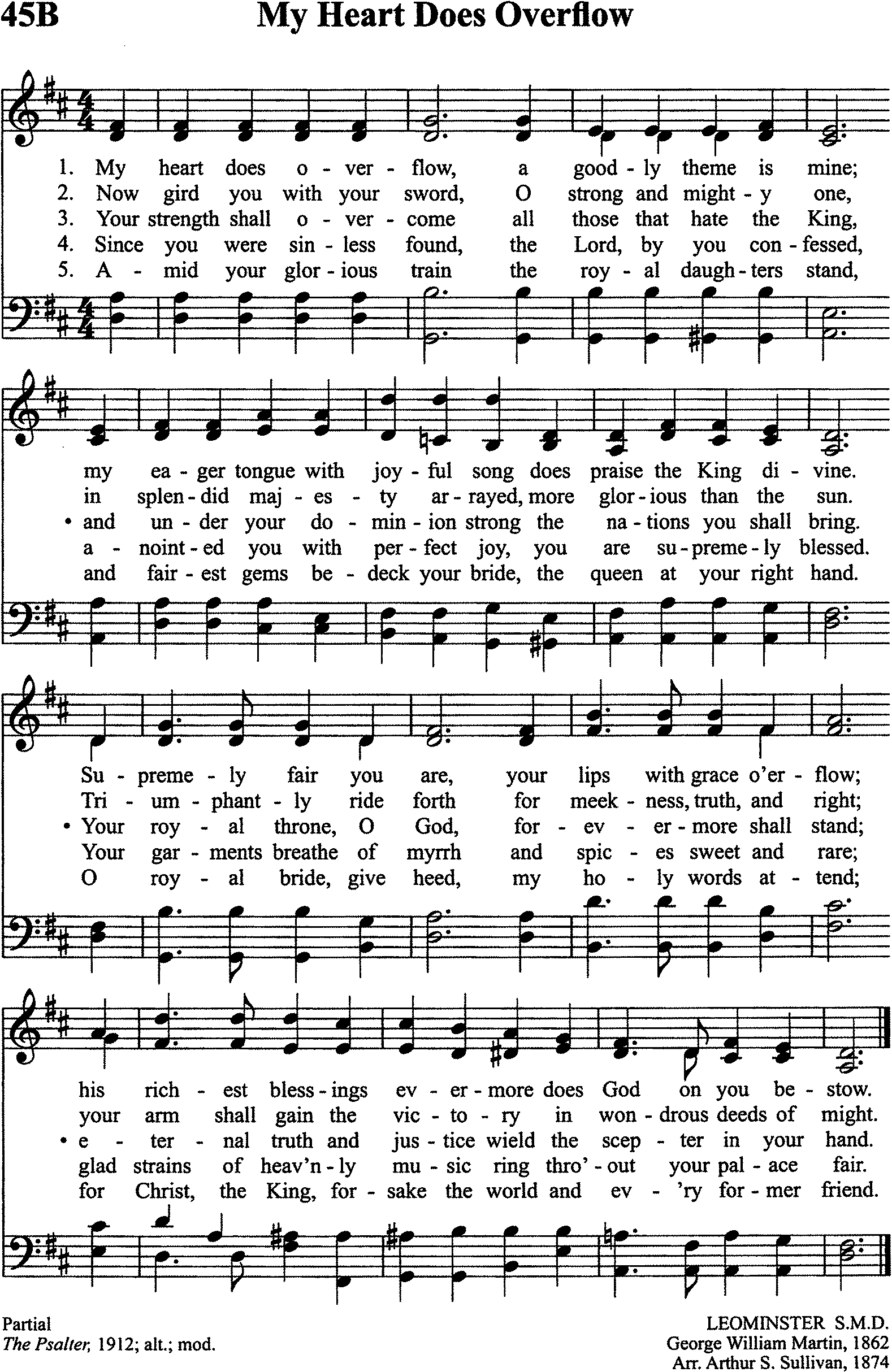 Reading of the Law: Hebrews 3:12–19

(ESV)
One or all can read:
12 Take care, brothers, lest there be in any of you an evil, unbelieving heart, leading you to fall away from the living God. 13 But exhort one another every day, as long as it is called "today," that none of you may be hardened by the deceitfulness of sin. 14 For we have come to share in Christ, if indeed we hold our original confidence firm to the end. 15 As it is said,
"Today, if you hear his voice,
do not harden your hearts as in the rebellion."

16 For who were those who heard and yet rebelled? Was it not all those who left Egypt led by Moses? 17 And with whom was he provoked for forty years? Was it not with those who sinned, whose bodies fell in the wilderness? 18 And to whom did he swear that they would not enter his rest, but to those who were disobedient? 19 So we see that they were unable to enter because of unbelief.
General Confession of Sin
Confess together:
O great and everlasting God, who dwells in unapproachable light, who searches and knows the thoughts and intentions of the heart, we confess that we have not loved you with all our heart, or with all our soul, or with all our mind, or with all our strength, or our neighbors as ourselves. We have loved what we ought not to have loved; we have coveted what is not ours; we have not been content with your provisions for us.
We have complained in our hearts about our family, about our friends, about our health, about our occupations, about your church, and about our trials. We have sought our security in those things which perish, rather than in you, the Everlasting God. Chasten, cleanse, and forgive us, through Jesus Christ, who is able for all time to save us who approach you through him, since he always lives to make intercession for us. Amen.
Silent Confession of Sin
Take a moment to confess your sins privately.
Reading of the Gospel: Hebrews 1:3

(ESV)
One or all can read:
3 He is the radiance of the glory of God and the exact imprint of his nature, and he upholds the universe by the word of his power. After making purification for sins, he sat down at the right hand of the Majesty on high,
Confession of Faith: Apostles' Creed
Read together:
I believe in God, the Father Almighty, Maker of heaven and earth.
And in Jesus Christ, His only begotten Son, our Lord; Who was conceived by the Holy Spirit, born of the virgin Mary; Suffered under Pontius Pilate; was crucified, dead, and buried; He descended into hell 1; The third day He rose again from the dead; He ascended into heaven, and sitteth at the right hand of God the Father Almighty; From thence He shall come to judge the living and the dead.
I believe in the Holy Spirit. I believe a holy catholic 2 church, the communion of saints; The forgiveness of sins; The resurrection of the body; And the life everlasting. Amen.
We confess that Jesus descended into hell figuratively, not literally. He suffered the pain of hell in His earthly ministry and on the cross in our place. (See Heidelberg Catechism question and answer 44.)

"Catholic" here means universal, affirming that there has always been and will always be only one true Christian Church.
Family Prayer
One can pray or all can take turns praying for the needs of your family, our church, the state, and the world.
Please pray for the specific requests from our church family:
Thank you for praying for the Esquibels' friends' 6-year-old grandson, Kai. His surgery to correct a serious heart condition has been moved to this month. Please continue to pray for him and his family.

Praise God that Amanda Holston and Katie Verhague are pregnant! Please continue to pray for them and their babies.

Elena Velasco's father, Martin, is now on hospice care. Please pray that his pain level would be managed well and pray for his salvation. Please continue to pray for comfort for Elena's mother Maria, and for Elena and the rest of the family.

Please continue to pray for Ann Hill's friend Heather, whose brain cancer has returned.

Please continue to pray for Holly Stafford's brother Kirk, who is suffering from serious health issues. Pray also for his salvation. In addition, please continue to pray for Holly's parents, Fernando and Randy, who are also concerned about Kirk.

Please continue to pray for Jerry Verhague's grandfather, Greg, who has cancer. We are grateful that his prognosis seems very good.

Please continue to pray for Bob and Ruth Mendoza's daughter Sarah, who's been having neurological issues that have required intensive medical attention.

Bob Mendoza is making progress as he recovers from his stroke. Please continue to pray that he would fully recover.

Thank you for your prayers for Lindsey and Courtney's grandfather Dwayne. The doctors have found that his cancer is not spreading and that it is treatable. Please continue to pray for him!

Please pray for Pastor Adam Kaloostian, who is planting a church in Ventura.

Please pray for Kerri Holston's nephew, Stephen. He is currently in renal failure needing dialysis. Also, pray for Kerri's mother, Sandra, who lost her husband recently.

Please continue to pray for Craig and Sheila's son Michael during his year-long deployment to Poland.

The surgery for Michael's wife Mila has been postponed as her doctors are trying non-surgical procedures to alleviate her issues. If those are unsuccessful, they may still operate when Michael returns from Poland in a year. Please continue to pray for her health.

Thank you for your prayers for Ann Hill's friend Steve Miller, who has stage four cancer. He has improved and continues treatment. Please continue to pray for him.

Please continue to pray for Jim Harmsen, who has been struggling with lung and heart issues. Pray also for Ruth's health.

Please continue to pray for the salvation of Janie McMillan's son, Steven.

Please continue to pray for the Morrisons' friend Hannah Keels and for her husband Chuck. Hannah's condition continues to improve but she is still receiving chemo and radiation treatments for cancer.
The Lord's Prayer
All pray aloud:
Our Father who art in heaven, hallowed be thy name. Thy kingdom come. Thy will be done, on earth as it is in heaven. Give us this day our daily bread, and forgive us our debts, as we forgive our debtors; and lead us not into temptation, but deliver us from evil. For thine is the kingdom and the power and the glory forever. Amen.
Hymn of Preparation: O

L

ord, I Will Extol You
Listen to the tune (plays through all verses, with intro):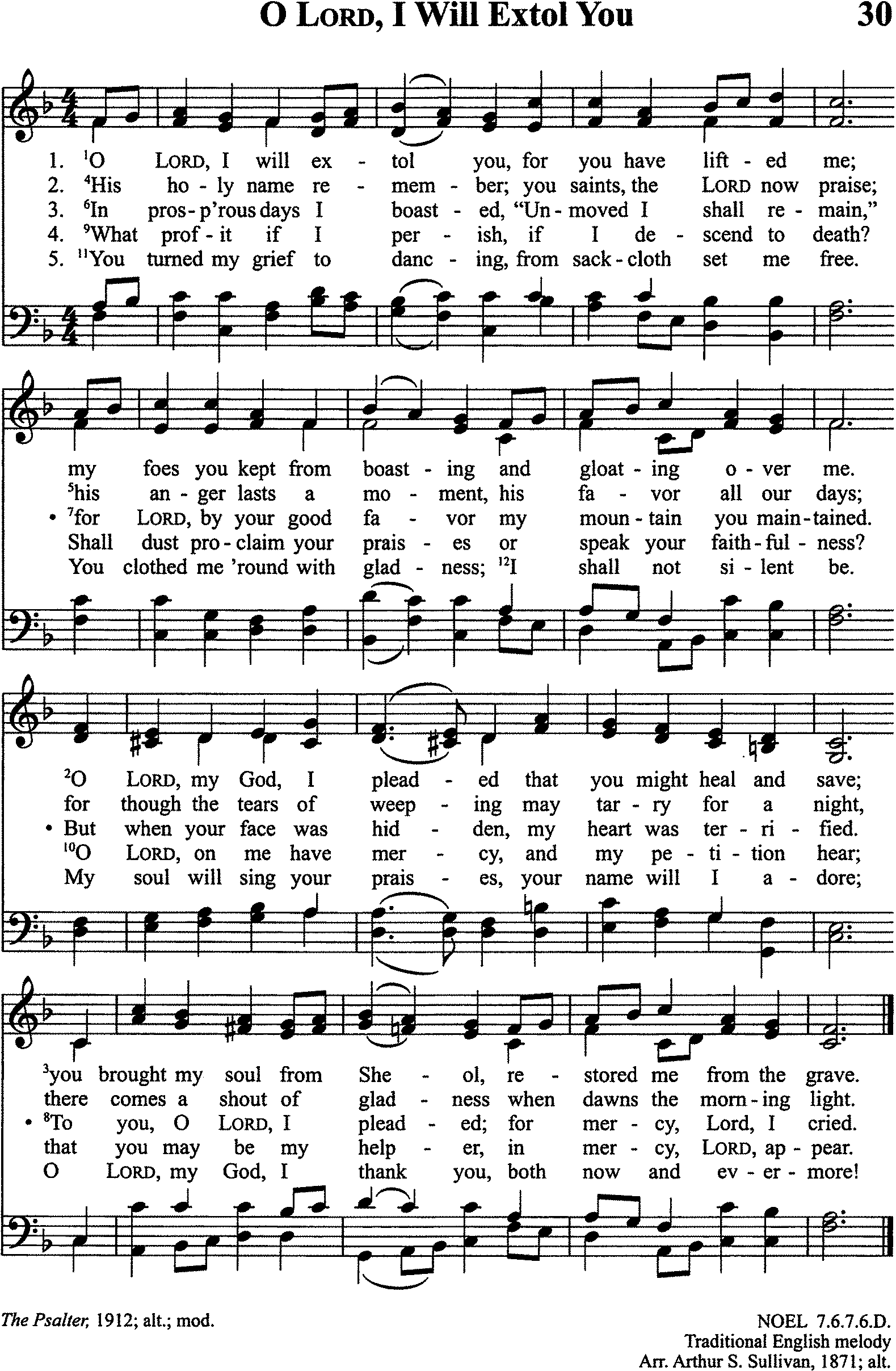 Sermon: "Repent and Wait" — Rev. Tom Morrison
Listen together. Listen online at https://urclearning.org/2021/12/04/isaiah-401-11-psalm-85-2-peter-3-mark-11-8-repent-and-wait-2/. Read along with the scripture lessons below.
Old Testament Lesson: Isaiah 40:1–11; Psalm 85

(ESV)
Isaiah 40:1–11
1 Comfort, comfort my people, says your God.
2 Speak tenderly to Jerusalem,
and cry to her
that her warfare is ended,
that her iniquity is pardoned,
that she has received from the Lord's hand
double for all her sins.
3 A voice cries:
"In the wilderness prepare the way of the Lord;
make straight in the desert a highway for our God.
4 Every valley shall be lifted up,
and every mountain and hill be made low;
the uneven ground shall become level,
and the rough places a plain.
5 And the glory of the Lord shall be revealed,
and all flesh shall see it together,
for the mouth of the Lord has spoken."

6 A voice says, "Cry!"
And I said, "What shall I cry?"
All flesh is grass,
and all its beauty is like the flower of the field.
7 The grass withers, the flower fades
when the breath of the Lord blows on it;
surely the people are grass.
8 The grass withers, the flower fades,
but the word of our God will stand forever.

9 Go on up to a high mountain,
O Zion, herald of good news;
lift up your voice with strength,
O Jerusalem, herald of good news;
lift it up, fear not;
say to the cities of Judah,
"Behold your God!"
10 Behold, the Lord God comes with might,
and his arm rules for him;
behold, his reward is with him,
and his recompense before him.
11 He will tend his flock like a shepherd;
he will gather the lambs in his arms;
he will carry them in his bosom,
and gently lead those that are with young.

Psalm 85
To the choirmaster. A Psalm of the Sons of Korah.
1 Lord, you were favorable to your land;
you restored the fortunes of Jacob.
2 You forgave the iniquity of your people;
you covered all their sin. Selah
3 You withdrew all your wrath;
you turned from your hot anger.
4 Restore us again, O God of our salvation,
and put away your indignation toward us!
5 Will you be angry with us forever?
Will you prolong your anger to all generations?
6 Will you not revive us again,
that your people may rejoice in you?
7 Show us your steadfast love, O Lord,
and grant us your salvation.
8 Let me hear what God the Lord will speak,
for he will speak peace to his people, to his saints;
but let them not turn back to folly.
9 Surely his salvation is near to those who fear him,
that glory may dwell in our land.
10 Steadfast love and faithfulness meet;
righteousness and peace kiss each other.
11 Faithfulness springs up from the ground,
and righteousness looks down from the sky.
12 Yes, the Lord will give what is good,
and our land will yield its increase.
13 Righteousness will go before him
and make his footsteps a way.

New Testament Lesson: 2 Peter 3; Mark 1:1–8

(ESV)
2 Peter 3
1 This is now the second letter that I am writing to you, beloved. In both of them I am stirring up your sincere mind by way of reminder, 2 that you should remember the predictions of the holy prophets and the commandment of the Lord and Savior through your apostles, 3 knowing this first of all, that scoffers will come in the last days with scoffing, following their own sinful desires. 4 They will say, "Where is the promise of his coming? For ever since the fathers fell asleep, all things are continuing as they were from the beginning of creation." 5 For they deliberately overlook this fact, that the heavens existed long ago, and the earth was formed out of water and through water by the word of God, 6 and that by means of these the world that then existed was deluged with water and perished. 7 But by the same word the heavens and earth that now exist are stored up for fire, being kept until the day of judgment and destruction of the ungodly.
8 But do not overlook this one fact, beloved, that with the Lord one day is as a thousand years, and a thousand years as one day. 9 The Lord is not slow to fulfill his promise as some count slowness, but is patient toward you, not wishing that any should perish, but that all should reach repentance. 10 But the day of the Lord will come like a thief, and then the heavens will pass away with a roar, and the heavenly bodies will be burned up and dissolved, and the earth and the works that are done on it will be exposed.
11 Since all these things are thus to be dissolved, what sort of people ought you to be in lives of holiness and godliness, 12 waiting for and hastening the coming of the day of God, because of which the heavens will be set on fire and dissolved, and the heavenly bodies will melt as they burn! 13 But according to his promise we are waiting for new heavens and a new earth in which righteousness dwells.
14 Therefore, beloved, since you are waiting for these, be diligent to be found by him without spot or blemish, and at peace. 15 And count the patience of our Lord as salvation, just as our beloved brother Paul also wrote to you according to the wisdom given him, 16 as he does in all his letters when he speaks in them of these matters. There are some things in them that are hard to understand, which the ignorant and unstable twist to their own destruction, as they do the other Scriptures. 17 You therefore, beloved, knowing this beforehand, take care that you are not carried away with the error of lawless people and lose your own stability. 18 But grow in the grace and knowledge of our Lord and Savior Jesus Christ. To him be the glory both now and to the day of eternity. Amen.
Mark 1:1–8
1 The beginning of the gospel of Jesus Christ, the Son of God.
2 As it is written in Isaiah the prophet,
"Behold, I send my messenger before your face,
who will prepare your way,
3 the voice of one crying in the wilderness:
'Prepare the way of the Lord,
make his paths straight,'"

4 John appeared, baptizing in the wilderness and proclaiming a baptism of repentance for the forgiveness of sins. 5 And all the country of Judea and all Jerusalem were going out to him and were being baptized by him in the river Jordan, confessing their sins. 6 Now John was clothed with camel's hair and wore a leather belt around his waist and ate locusts and wild honey. 7 And he preached, saying, "After me comes he who is mightier than I, the strap of whose sandals I am not worthy to stoop down and untie. 8 I have baptized you with water, but he will baptize you with the Holy Spirit."
Hymn of Response: Lo, How a Rose E'er Blooming
Listen to the tune (plays through all verses, with intro):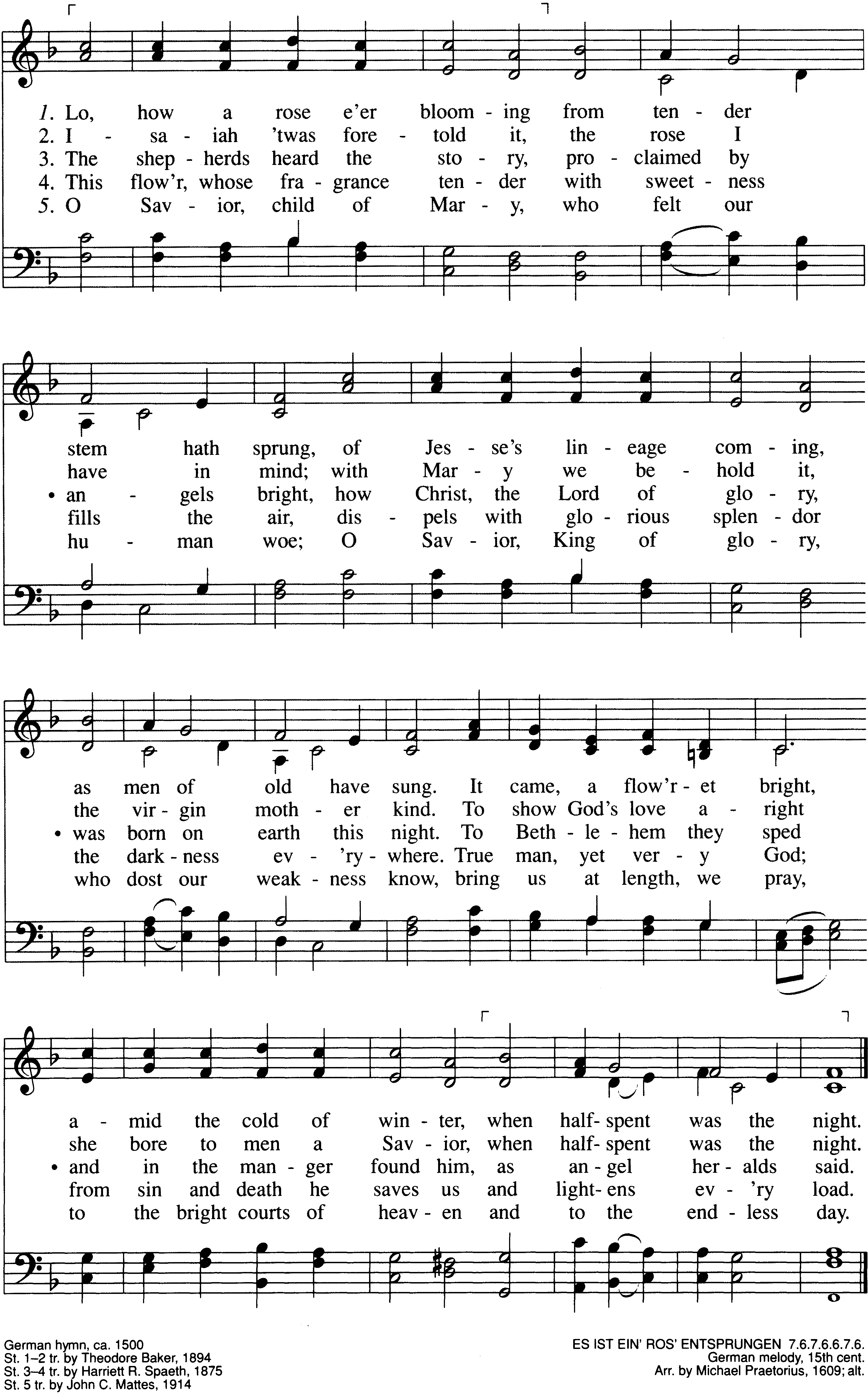 Gloria Patri
Sing together:
Glory be to the Father and to the Son and to the Holy Ghost. As it was in the beginning, is now and ever shall be, world without end. Amen. Amen.
Closing Prayer
One person can pray:
We praise you, our Father, for the perfect obedience of Jesus Christ, which has been imputed to us through faith. Thank you that he secured our salvation through his life and death and resurrection. Create in us new hearts that love you in response. In the name of Christ we pray, amen!
---
Offering
There are many ways to give to the church, even when you are unable to attend services in person. You can mail a check, or give online and even set up recurring giving using your bank's online bill pay or PayPal. Learn more ›
---
Updates from URCNA Missionaries
Pray for URC Missionaries
Pastor Bill Green — missionary in San Jose, Costa Rica
Please continue to pray for the teachers in our primary and secondary schools.
Pray for the Costa Rica Presbyterian churches and missions and their pastors.
Give thanks for the publications of Reformed material printed by Confraternidad Latinoamericana de Iglesias Reformadas (the Latin American Fellowship of Reformed Churches, also known as CLIR) that are being sent throughout the Latin world.
Watch an interview with Pastor Green from September 1, 2020: YouTube (15 minutes)
Please check urcnamissions.org for regular updates on our missionaries and the COVID-19 pandemic.