November 29, 2020
Worship Guide
This guide is designed for at least one family member to follow online to play audio for hymn tunes and the sermon. Others can follow along at guide.highdeserturc.org using their own devices, or using printed copies.
Need help with the Worship Guide? Have a suggestion? Email us.
NEW — All members: congregational letter to replace regular end-of-year meeting. Given that we presently have no secure indoor environment in which to meet, we will forgo our yearly congregational meeting. Instead we will send out a letter that will include a proposed budget and a ballot. We will likely provide an option to vote to approve the budget online. We will, Lord willing, send out the letter and ballot in the next week or two.
All members: we've opened up new time slots in 2021 for Tuesday night house visitations. We're already booked through the end of this year. Pastor Tom and Elder Marty can visit you at home or online via Zoom. If you haven't already done so, please schedule your visitation online.
The outdoor worship service at Hesperia Lake Park has moved to 10 AM due to the cold weather. See the August 6 congregational letter for details on outdoor worship.
Sermon discussion questions: parents, before you read the Old and New Testament Lessons below (or listen to them in the sermon audio), consider reminding your kids of the importance of both hearing the Scriptures read and preached. You can also ask them some of the sermon discussion questions even before they hear the Scripture readings. This will help them focus and pay closer attention.
You can now give online to High Desert URC using PayPal. Learn more ›
---
High Desert United Reformed Church · Hymns for November 29, 2020
Call to Worship
One person can pray:
Father of lights, in whom there is no shifting shadow or variance of ways, you are the giver of all good gifts in this creation. Simply from what we have received in family, friends, meaningful work, recreation, and many other temporal gifts, we find gratitude to praise you for eternity. But we are especially grateful for the gift of your only begotten Son, Jesus Christ, who is our life. We will live eternally with you in heaven because of his work on our behalf. In view of the Gospel, we come to worship you now, giving you your due. Please come to us by the power of your Word and Spirit and minister to us, poor sinners. May you be glorified in our worship now. In the name of Jesus Christ we pray, amen.
Doxology (updated)
Sing together:
Praise God from whom all blessings flow; Praise him, all creatures here below; Praise him above, ye heav'nly host; Praise Father, Son, and Holy Ghost. Amen.
Hymn of Praise: Who with God Most High Finds Shelter
Listen to the tune (plays through all verses, with intro):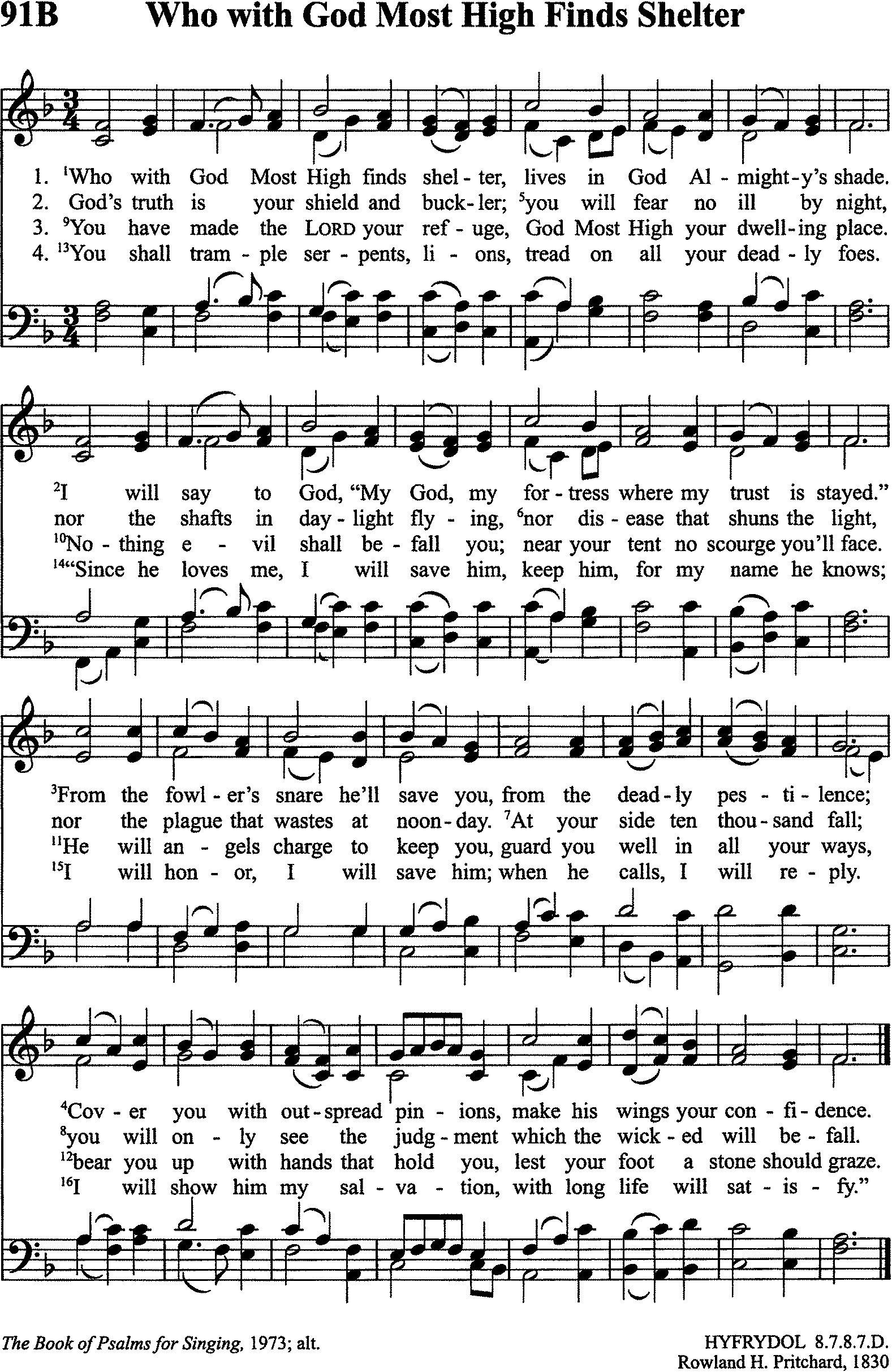 Reading of the Law: Colossians 3:5–10

(ESV)
One or all can read:
5 Put to death therefore what is earthly in you: sexual immorality, impurity, passion, evil desire, and covetousness, which is idolatry. 6 On account of these the wrath of God is coming. 7 In these you too once walked, when you were living in them. 8 But now you must put them all away: anger, wrath, malice, slander, and obscene talk from your mouth. 9 Do not lie to one another, seeing that you have put off the old self with its practices 10 and have put on the new self, which is being renewed in knowledge after the image of its creator.
General Confession of Sin
Confess together:
O great and everlasting God, who dwells in unapproachable light, who searches and knows the thoughts and intentions of the heart, we confess that we have not loved you with all our heart, or with all our soul, or with all our mind, or with all our strength, or our neighbors as ourselves. We have loved what we ought not to have loved; we have coveted what is not ours; we have not been content with your provisions for us.
We have complained in our hearts about our family, about our friends, about our health, about our occupations, about your church, and about our trials. We have sought our security in those things which perish, rather than in you, the Everlasting God. Chasten, cleanse, and forgive us, through Jesus Christ, who is able for all time to save us who approach you through him, since he always lives to make intercession for us. Amen.
Silent Confession of Sin
Take a moment to confess your sins privately.
Reading of the Gospel: Colossians 1:13–14

(ESV)
One or all can read:
13 He has delivered us from the domain of darkness and transferred us to the kingdom of his beloved Son, 14 in whom we have redemption, the forgiveness of sins.
Confession of Faith: Apostles' Creed
Read together:
I believe in God, the Father Almighty, Maker of heaven and earth.
And in Jesus Christ, His only begotten Son, our Lord; Who was conceived by the Holy Spirit, born of the virgin Mary; Suffered under Pontius Pilate; was crucified, dead, and buried; He descended into hell 1; The third day He rose again from the dead; He ascended into heaven, and sitteth at the right hand of God the Father Almighty; From thence He shall come to judge the living and the dead.
I believe in the Holy Spirit. I believe a holy catholic 2 church, the communion of saints; The forgiveness of sins; The resurrection of the body; And the life everlasting. Amen.
We confess that Jesus descended into hell figuratively, not literally. He suffered the pain of hell in His earthly ministry and on the cross in our place. (See Heidelberg Catechism question and answer 44.)

"Catholic" here means universal, affirming that there has always been and will always be only one true Christian Church.
Family Prayer
One can pray or all can take turns praying for the needs of your family, our church, the state, and the world.
Please pray for the specific requests from our church family:
Please pray for Maarten Verweij's mom Maartje (pronounced "Mah-cha"). She is elderly and has had health challenges. Maarten and his son Jakob are currently visiting her in the Netherlands.

Please pray for Jenna Verweij's mother Joanne, who lives in Arizona. She is in critical condition in the ICU after having heart surgery on Monday. Please pray also for Jenna during this time.

Please continue to pray for Marty Martinez as he mourns the loss of his sister Cheryl. Pray also for Cheryl's husband and daughters.

Please pray for Joyce Chiacchiera, who was recently diagnosed with skin cancer. Please pray for healing and for peace.

Please pray for Elena Velasco's father, Martin, who has been diagnosed with cancer. Please pray for his healing and comfort in Christ. Please also pray for comfort for Elena's mother Maria, and for Elena and the rest of the family.

Praise God that baby Brody, the son of the Phatinawins' friends Aaron and Annie, is now at home! He has a long way to recovery, though. He can't take in food by mouth yet, so he's only receiving artificial feeding. Please continue to pray for him and his parents as he continues to receive treatment for his health condition, central conducting lymphatic anomaly (CCLA), which affects the lymphatic system (a vital part of the immune system).

Please continue to pray for the Boyds' daughter-in-law, Mila. She is still waiting for surgery. Pray for good health in the meantime, and for patience!

Praise God that Mikaelan Martinez is pregnant! Please continue pray for her and baby and for Jonah.

Please continue pray for Ann Hill's friend Steve Miller, who has stage four cancer.

Please continue to pray for Elena Velasco's sister Gabriella, who is struggling with a health issue.

Please continue to pray for Jim Harmsen, who has been struggling with lung and heart issues. Pray also for Ruth's health.

Please continue to pray for Bob Mendoza, who continues to struggle with severe back pain. Please also pray for Ruth, who has several health issues that are being addressed by her doctors.

Please continue to pray for the salvation of Janie McMillan's son, Steven.

Please continue to pray for the Morrisons' friend Hannah Keels, who has cancer, and for her husband Chuck. Hannah's condition is improving but she continues to receive chemo and radiation treatments.
The Lord's Prayer
All pray aloud:
Our Father who art in heaven, hallowed be thy name. Thy kingdom come. Thy will be done, on earth as it is in heaven. Give us this day our daily bread, and forgive us our debts, as we forgive our debtors; and lead us not into temptation, but deliver us from evil. For thine is the kingdom and the power and the glory forever. Amen.
Hymn of Preparation: Praise the

L

ord! My Soul, O Praise Him!
Listen to the tune (plays through all verses, with intro):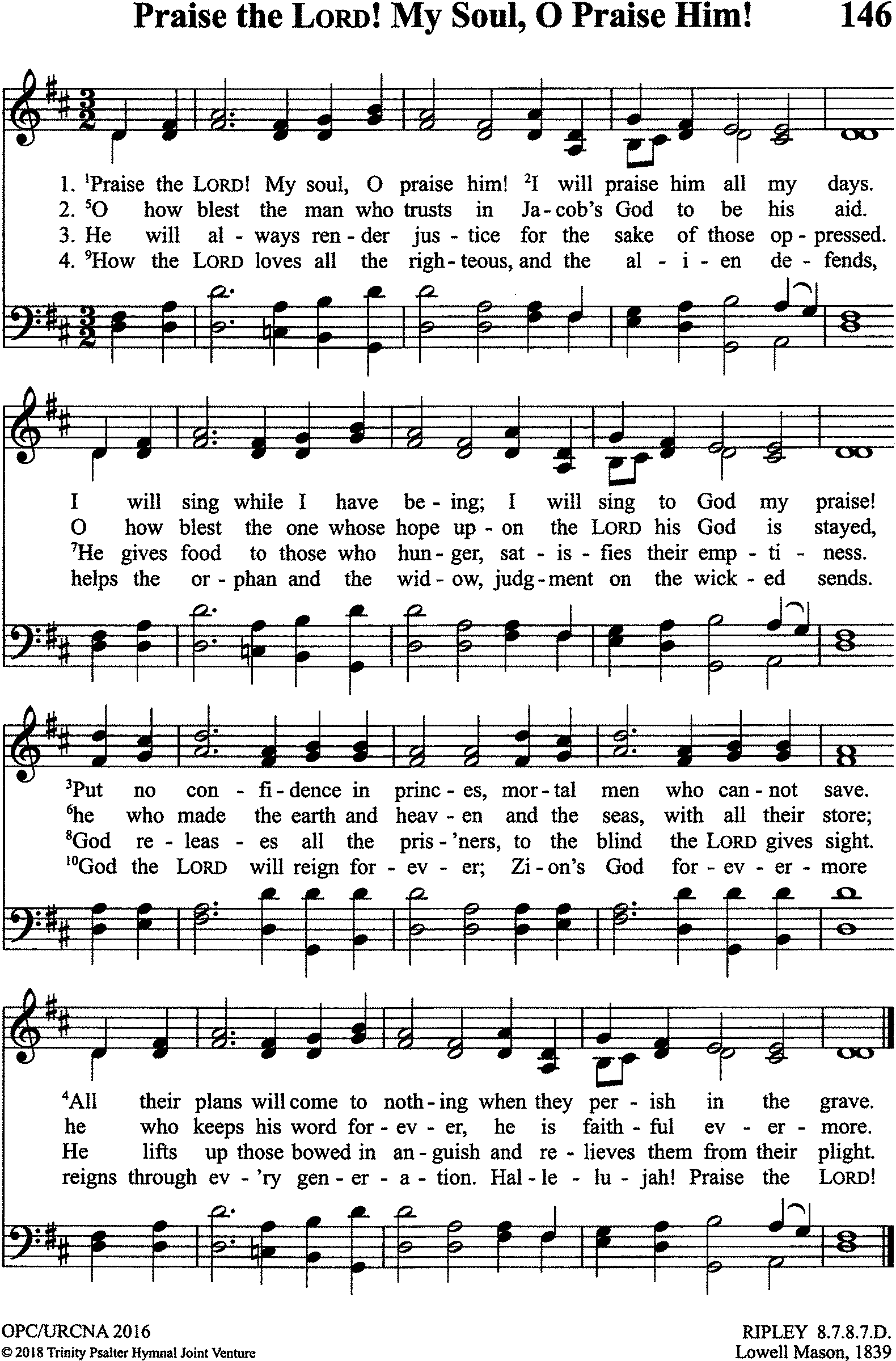 Sermon — Rev. Tom Morrison
Listen together. Listen online at https://urclearning.org/2020/11/28/revelation-212-17-status-symbol/. Read along with the scripture lessons below.
(See sermon discussion questions below.)
Old Testament Lesson: Isaiah 65:15–19

(ESV)
15 You shall leave your name to my chosen for a curse,
and the Lord God will put you to death,
but his servants he will call by another name,
16 so that he who blesses himself in the land
shall bless himself by the God of truth,
and he who takes an oath in the land
shall swear by the God of truth;
because the former troubles are forgotten
and are hidden from my eyes.

17 "For behold, I create new heavens
and a new earth,
and the former things shall not be remembered
or come into mind.
18 But be glad and rejoice forever
in that which I create;
for behold, I create Jerusalem to be a joy,
and her people to be a gladness.
19 I will rejoice in Jerusalem
and be glad in my people;
no more shall be heard in it the sound of weeping
and the cry of distress.

New Testament Lesson: Revelation 2:12–17

(ESV)
12 "And to the angel of the church in Pergamum write: 'The words of him who has the sharp two-edged sword.
13 "'I know where you dwell, where Satan's throne is. Yet you hold fast my name, and you did not deny my faith even in the days of Antipas my faithful witness, who was killed among you, where Satan dwells. 14 But I have a few things against you: you have some there who hold the teaching of Balaam, who taught Balak to put a stumbling block before the sons of Israel, so that they might eat food sacrificed to idols and practice sexual immorality. 15 So also you have some who hold the teaching of the Nicolaitans. 16 Therefore repent. If not, I will come to you soon and war against them with the sword of my mouth. 17 He who has an ear, let him hear what the Spirit says to the churches. To the one who conquers I will give some of the hidden manna, and I will give him a white stone, with a new name written on the stone that no one knows except the one who receives it.'
Hymn of Response: All Hail the Power of Jesus' Name
Listen to the tune (plays through all verses, with intro):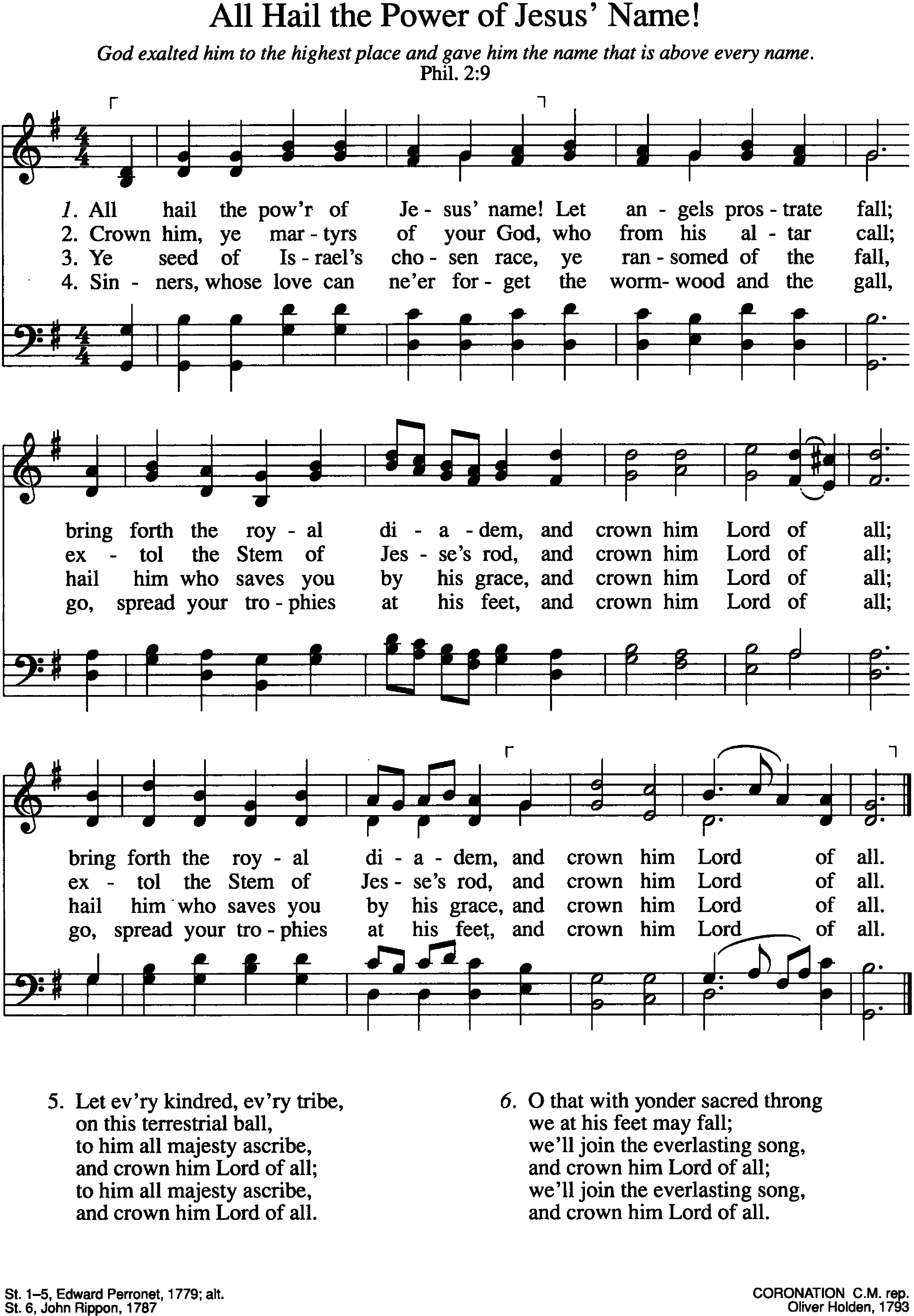 Gloria Patri
Sing together:
Glory be to the Father and to the Son and to the Holy Ghost. As it was in the beginning, is now and ever shall be, world without end. Amen. Amen.
Closing Prayer
One person can pray:
We thank you, our heavenly Father, for recreating us in the image of Jesus Christ, as we heard your Word preached. For you, by the power of the Holy Spirit, have reshaped our understanding and vision of what it is to live for you. We have the name of Jesus Christ, which means we belong to him for eternity. Thank you for the security we have through the finished work of Christ. Please gives us the grace of Christ and the Holy Spirit to strengthen our resolve to live for you. In the name of Jesus Christ we pray, amen.
---
Sermon Discussion Questions
For what does Christ commend the church in Pergamum?

For remaining faithful to him under the pressure of persecution.

What kind of persecution did the church in Pergamum face?

They were pressured to worship the Roman emperor.

What would happen if the Christians refused to worship the emperor?

They would be ostracized and sometimes killed.

For what does Christ condemn the church?

They were holding to the teachings of Balaam and the Nicolaitans.

What is the teaching of Balaam and the Nicolaitans?

Essentially, to believe that Christians can be worldly without God's disapproval. In the first century, some Christians were participating in pagan feasts and sexual immorality.

What would the Christians receive if they were faithful to Christ until the end of their lives?

They would receive "hidden manna" and a "white stone, with a new name written on the stone that no one knows except the one who receives it."

What are these things?!

The "hidden manna" is a promise that we will fellowship with Christ in heaven over the Marriage Supper of the Lamb. Its ultimate significance is hidden now but will be revealed later when we are in heaven.

The "stone with the new name" similarly refers to the ability to fellowship with Christ in heaven. But it also refers to having the name of Jesus Christ on our foreheads. That is, we are now, through faith, identified with Christ – we belong to him – and on the Final Day, we will enter heaven with that name in our possession and have a further understanding and appreciation of its value.

Discuss how possessing the name of Jesus Christ makes a difference in your life. What does it mean to be identified with Christ and his name?
---
Offering
There are many ways to give to the church, even when you are unable to attend services in person. You can mail a check, or give online and even set up recurring giving using your bank's online bill pay or PayPal. Learn more ›
---
Announcements
Please let Pastor Tom know if you have any prayer requests.
Pray for URC Missionaries
Rev. Rich Kuiken — church planter in the Poconos, Pennsylvania
Praise God for an extremely accommodating new worship facility which we are leasing.
Praise God for a near doubling of our average worship attendance since this past summer.
Pray for the Holy Spirit's continued watering of much "spiritual seed" which has been planted over the past year and a half through various means.
Pray for the Lord's blessing on our men's and women's Bible studies, Sunday school classes, and neighborhood outreach to folks who have recently moved into our area.
Please check urcnamissions.org for regular updates on our missionaries and the COVID-19 pandemic.
Print Options