January 16, 2022
Worship Guide
This guide is designed for at least one family member to follow online to play audio for hymn tunes and the sermon. Others can follow along at guide.highdeserturc.org using their own devices, or using printed copies.
Need help with the Worship Guide? Have a suggestion? Email us.
NEW — today's 11:45 AM in-person catechetical service has been canceled again due to recent spike in

COVID

cases.
Baby shower for Amanda Holston & Men's Fellowship postponed. We'll let you know when they're rescheduled.
2022 Bible reading programs. There are a variety of Bible reading programs listed on the Ligonier website. Also, please see Pastor Tom for another Bible reading program alternative.
---
High Desert United Reformed Church · Hymns for January 16, 2022
Call to Worship
One person can pray:
We sing to you, O Lord, a new song, for you have done marvelous things! Your right hand and your holy arm have worked salvation for us. You have made known your salvation; you have revealed your righteousness in the sight of the nations. Make our hearts grateful as we hear about this salvation in the preaching of the Word today. And in return, we pray that we would honor you, Father, Son, and Holy Spirit. In the name of Jesus Christ we pray, amen.
Doxology
Sing together:
Praise God from whom all blessings flow; Praise him, all creatures here below; Praise him above, ye heav'nly host; Praise Father, Son, and Holy Ghost. Amen.
Hymn of Praise: God, Be Merciful to Me (first four verses)
Listen to the tune (plays through 4 verses, with intro):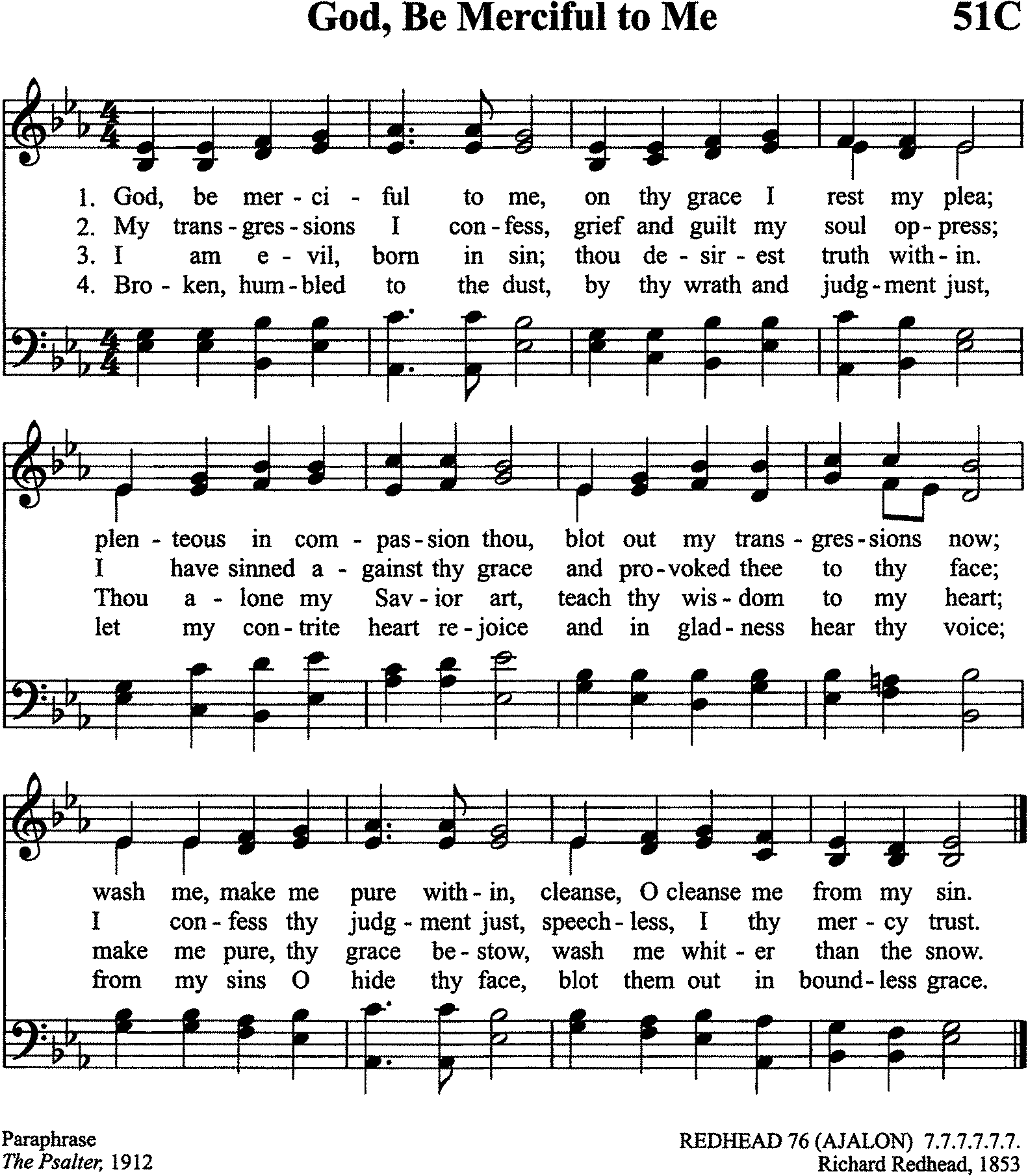 Reading of the Law: James 1:26–27

(ESV)
One or all can read:
26 If anyone thinks he is religious and does not bridle his tongue but deceives his heart, this person's religion is worthless. 27 Religion that is pure and undefiled before God the Father is this: to visit orphans and widows in their affliction, and to keep oneself unstained from the world.
General Confession of Sin
Confess together:
O great and everlasting God, who dwells in unapproachable light, who searches and knows the thoughts and intentions of the heart, we confess that we have not loved you with all our heart, or with all our soul, or with all our mind, or with all our strength, or our neighbors as ourselves. We have loved what we ought not to have loved; we have coveted what is not ours; we have not been content with your provisions for us.
We have complained in our hearts about our family, about our friends, about our health, about our occupations, about your church, and about our trials. We have sought our security in those things which perish, rather than in you, the Everlasting God. Chasten, cleanse, and forgive us, through Jesus Christ, who is able for all time to save us who approach you through him, since he always lives to make intercession for us. Amen.
Silent Confession of Sin
Take a moment to confess your sins privately.
Reading of the Gospel: 2 Corinthians 5:21

(ESV)
One or all can read:
21 For our sake he made him to be sin who knew no sin, so that in him we might become the righteousness of God.
Confession of Faith: Nicene Creed
Read together:
I believe in one God, the Father Almighty, Maker of heaven and earth, and of all things visible and invisible.
And in one Lord Jesus Christ, the only begotten Son of God, begotten of the Father before all worlds; God of God, Light of Light, very God of very God; begotten, not made, being of one substance with the Father, by whom all things were made.
Who, for us men and for our salvation, came down from heaven and was incarnate by the Holy Spirit of the virgin Mary, and was made man; and was crucified also for us under Pontius Pilate; he suffered and was buried; and the third day he rose again, according to the Scriptures; and ascended into heaven, and sits on the right hand of the Father; and he shall come again, with glory, to judge the living and the dead; whose kingdom shall have no end.
And I believe in the Holy Spirit, the Lord and Giver of life; who proceeds from the Father and the Son; who with the Father and the Son together is worshipped and glorified; who spoke by the prophets.
And I believe in one holy catholic 1 and apostolic church. I acknowledge one baptism for the remission of sins; and I look for the resurrection of the dead, and the life of the world to come. Amen.
"Catholic" here means universal, affirming that there has always been and will always be only one true Christian Church.
Family Prayer
One can pray or all can take turns praying for the needs of your family, our church, the state, and the world.
Please pray for the specific requests from our church family:
Thank you for your prayers for the Esquibels' friends' 6-year-old grandson, Kai. His surgery this past Monday was successful, thank God! Please continue to pray for him as he recovers.

Praise God that Amanda Holston and Katie Verhague are pregnant! Please continue to pray for them and their babies.

Elena Velasco's father, Martin, is now on hospice care. Please pray that his pain level would be managed well and pray for his salvation. Please continue to pray for comfort for Elena's mother Maria, and for Elena and the rest of the family.

Please continue to pray for Ann Hill's friend Heather, whose brain cancer has returned.

Please continue to pray for Holly Stafford's brother Kirk, who is suffering from serious health issues. Pray also for his salvation. In addition, please continue to pray for Holly's parents, Fernando and Randy, who are also concerned about Kirk.

Please continue to pray for Jerry Verhague's grandfather, Greg, who has cancer. We are grateful that his prognosis seems very good.

Please continue to pray for Bob and Ruth Mendoza's daughter Sarah, who's been having neurological issues that have required intensive medical attention.

Bob Mendoza is making progress as he recovers from his stroke. Please continue to pray that he would fully recover.

Thank you for your prayers for Lindsey and Courtney's grandfather Dwayne. The doctors have found that his cancer is not spreading and that it is treatable. Please continue to pray for him!

Please pray for Pastor Adam Kaloostian, who is planting a church in Ventura.

Please pray for Kerri Holston's nephew, Stephen. He is currently in renal failure needing dialysis. Also, pray for Kerri's mother, Sandra, who lost her husband recently.

Thank you for your prayers for Ann Hill's friend Steve Miller, who has stage four cancer. He has improved and continues treatment. Please continue to pray for him.

Please continue to pray for Jim Harmsen, who has been struggling with lung and heart issues. Pray also for Ruth's health.

Please continue to pray for the salvation of Janie McMillan's son, Steven.

Please continue to pray for the Morrisons' friend Hannah Keels and for her husband Chuck. Hannah's condition continues to improve but she is still receiving chemo and radiation treatments for cancer.
The Lord's Prayer
All pray aloud:
Our Father who art in heaven, hallowed be thy name. Thy kingdom come. Thy will be done, on earth as it is in heaven. Give us this day our daily bread, and forgive us our debts, as we forgive our debtors; and lead us not into temptation, but deliver us from evil. For thine is the kingdom and the power and the glory forever. Amen.
Hymn of Preparation: The

L

ord Said to My Lord
Listen to the tune (plays through all verses, with intro):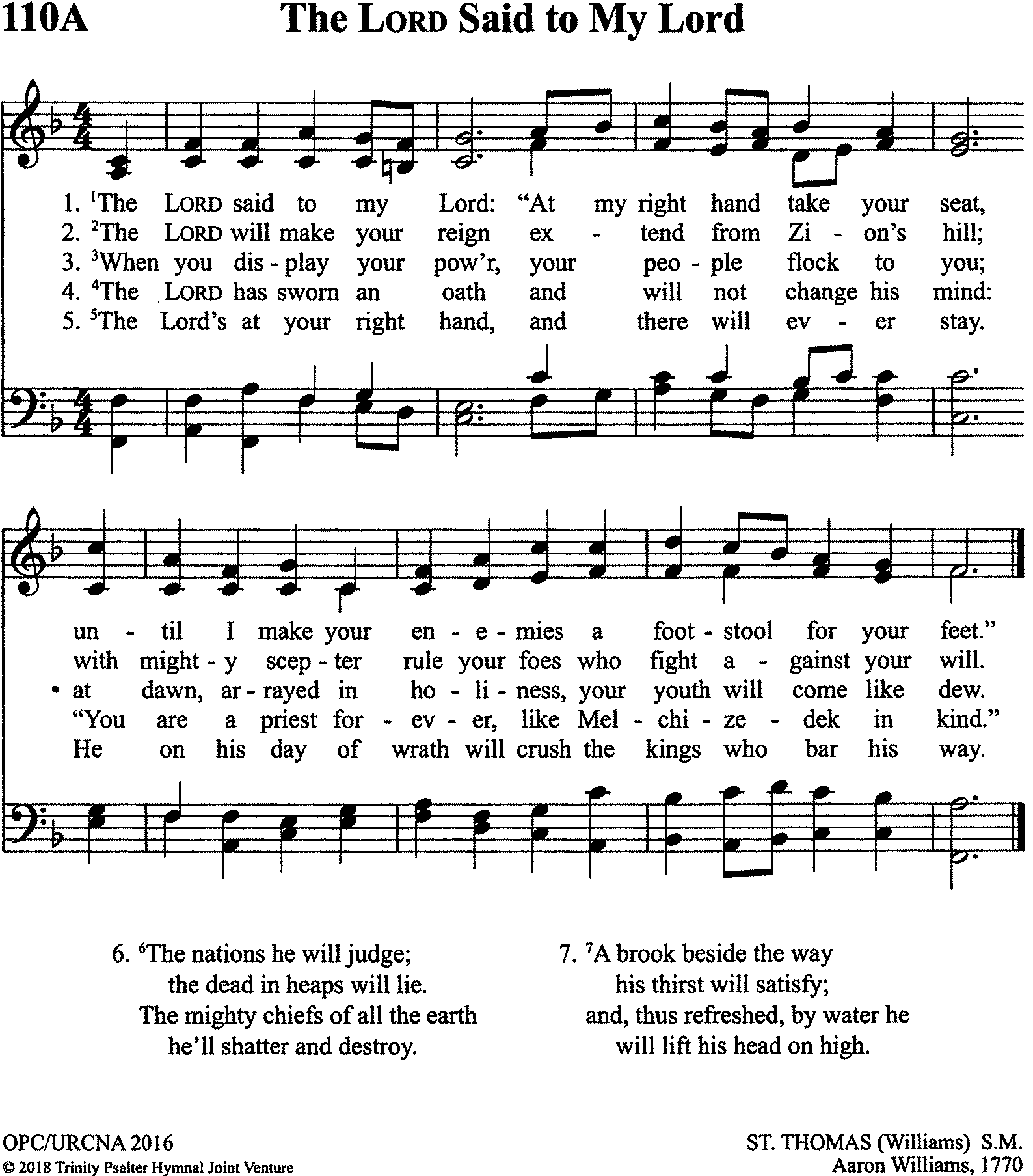 Sermon: "Ideal King" — Rev. Tom Morrison
Listen together. Listen online at https://urclearning.org/2022/01/15/2-kings-1121-1221-ideal-king/. Read along with the scripture lessons below.
Old Testament Lesson: 2 Kings 11:21–12:21

(ESV)
21 Jehoash was seven years old when he began to reign.
1 In the seventh year of Jehu, Jehoash began to reign, and he reigned forty years in Jerusalem. His mother's name was Zibiah of Beersheba. 2 And Jehoash did what was right in the eyes of the Lord all his days, because Jehoiada the priest instructed him. 3 Nevertheless, the high places were not taken away; the people continued to sacrifice and make offerings on the high places.
4 Jehoash said to the priests, "All the money of the holy things that is brought into the house of the Lord, the money for which each man is assessed—the money from the assessment of persons—and the money that a man's heart prompts him to bring into the house of the Lord, 5 let the priests take, each from his donor, and let them repair the house wherever any need of repairs is discovered." 6 But by the twenty-third year of King Jehoash, the priests had made no repairs on the house. 7 Therefore King Jehoash summoned Jehoiada the priest and the other priests and said to them, "Why are you not repairing the house? Now therefore take no more money from your donors, but hand it over for the repair of the house." 8 So the priests agreed that they should take no more money from the people, and that they should not repair the house.
9 Then Jehoiada the priest took a chest and bored a hole in the lid of it and set it beside the altar on the right side as one entered the house of the Lord. And the priests who guarded the threshold put in it all the money that was brought into the house of the Lord. 10 And whenever they saw that there was much money in the chest, the king's secretary and the high priest came up and they bagged and counted the money that was found in the house of the Lord. 11 Then they would give the money that was weighed out into the hands of the workmen who had the oversight of the house of the Lord. And they paid it out to the carpenters and the builders who worked on the house of the Lord, 12 and to the masons and the stonecutters, as well as to buy timber and quarried stone for making repairs on the house of the Lord, and for any outlay for the repairs of the house. 13 But there were not made for the house of the Lord basins of silver, snuffers, bowls, trumpets, or any vessels of gold, or of silver, from the money that was brought into the house of the Lord, 14 for that was given to the workmen who were repairing the house of the Lord with it. 15 And they did not ask for an accounting from the men into whose hand they delivered the money to pay out to the workmen, for they dealt honestly. 16 The money from the guilt offerings and the money from the sin offerings was not brought into the house of the Lord; it belonged to the priests.
17 At that time Hazael king of Syria went up and fought against Gath and took it. But when Hazael set his face to go up against Jerusalem, 18 Jehoash king of Judah took all the sacred gifts that Jehoshaphat and Jehoram and Ahaziah his fathers, the kings of Judah, had dedicated, and his own sacred gifts, and all the gold that was found in the treasuries of the house of the Lord and of the king's house, and sent these to Hazael king of Syria. Then Hazael went away from Jerusalem.
19 Now the rest of the acts of Joash and all that he did, are they not written in the Book of the Chronicles of the Kings of Judah? 20 His servants arose and made a conspiracy and struck down Joash in the house of Millo, on the way that goes down to Silla. 21 It was Jozacar the son of Shimeath and Jehozabad the son of Shomer, his servants, who struck him down, so that he died. And they buried him with his fathers in the city of David, and Amaziah his son reigned in his place.
New Testament Lesson: Matthew 3:13–17

(ESV)
13 Then Jesus came from Galilee to the Jordan to John, to be baptized by him. 14 John would have prevented him, saying, "I need to be baptized by you, and do you come to me?" 15 But Jesus answered him, "Let it be so now, for thus it is fitting for us to fulfill all righteousness." Then he consented. 16 And when Jesus was baptized, immediately he went up from the water, and behold, the heavens were opened to him, and he saw the Spirit of God descending like a dove and coming to rest on him; 17 and behold, a voice from heaven said, "This is my beloved Son, with whom I am well pleased."
Hymn of Response: Christ Is Made the Sure Foundation
Listen to the tune (plays through all verses, with intro):
Gloria Patri
Sing together:
Glory be to the Father and to the Son and to the Holy Ghost. As it was in the beginning, is now and ever shall be, world without end. Amen. Amen.
Closing Prayer
One person can pray:
We thank you, our gracious heavenly Father, for the wonderful things we have heard in your Word. May we hide these things in our heart and return to them during the week as we meditate on things above. Sanctify us and prepare us for heaven. Thank you for the full salvation we enjoy through the perfect work of Jesus Christ. In his name we pray, amen!
---
Offering
There are many ways to give to the church, even when you are unable to attend services in person. You can mail a check, or give online and even set up recurring giving using your bank's online bill pay or PayPal. Learn more ›
---
Updates from URCNA Missionaries
Pray for URC Missionaries
Pastor Caleb Jansen — church planter of Gig Harbor URC in Gig Harbor, Washington.
I recently finished a leadership training course this past fall. Pray that the Lord would raise up local officers to serve in Gig Harbor.
Pray that the Lord would provide a meeting space for us to gather for worship on Sunday mornings.
Pray for avenues of outreach to our community.
Please check urcnamissions.org for regular updates on our missionaries and the COVID-19 pandemic.