July 25, 2021
Worship Guide
This guide is designed for at least one family member to follow online to play audio for hymn tunes and the sermon. Others can follow along at guide.highdeserturc.org using their own devices, or using printed copies.
Need help with the Worship Guide? Have a suggestion? Email us.
Pastor Tom was on vacation this past week; today's sermon was preached by Rev. Movses Janbazian of Pasadena URC on December 27, 2020. (Used with Pastor Movses's permission.)
---
The 10:00 am communion and 11:45 am catechetical in-person services have resumed, but you can still use this online worship guides if you prefer to worship from home. Learn more about indoor worship ›
All members: schedule your home visitation if you haven't already! Pastor Tom and Elder Marty or Elder Joseph can visit you at home or online via Zoom. Schedule now ›
You can give online to High Desert URC, and even set up automatic monthly giving. See giving options ›
---
High Desert United Reformed Church · Hymns for July 25, 2021
Call to Worship
One person can pray:
Your Word, O God, is living and active, sharper than any two-edged sword, piercing to the division of soul and of spirit, of joints and of marrow, and discerning the thoughts and intentions of the heart. Please search us, O God, and know our hearts! See if there be any grievous way in us, and lead us in the way everlasting through faith and trust in Jesus Christ, who has saved us and washed us! May we in this service today hear both the Law and the Gospel leading us to gratitude. And may our worship please you despite its many imperfections. In the name of Jesus Christ we pray, amen.
Doxology
Sing together:
Praise God from whom all blessings flow; Praise him, all creatures here below; Praise him above, ye heav'nly host; Praise Father, Son, and Holy Ghost. Amen.
Hymn of Praise: Sing Hallelujah! Praise the

L

ord!
Listen to the tune (plays through all verses, with intro):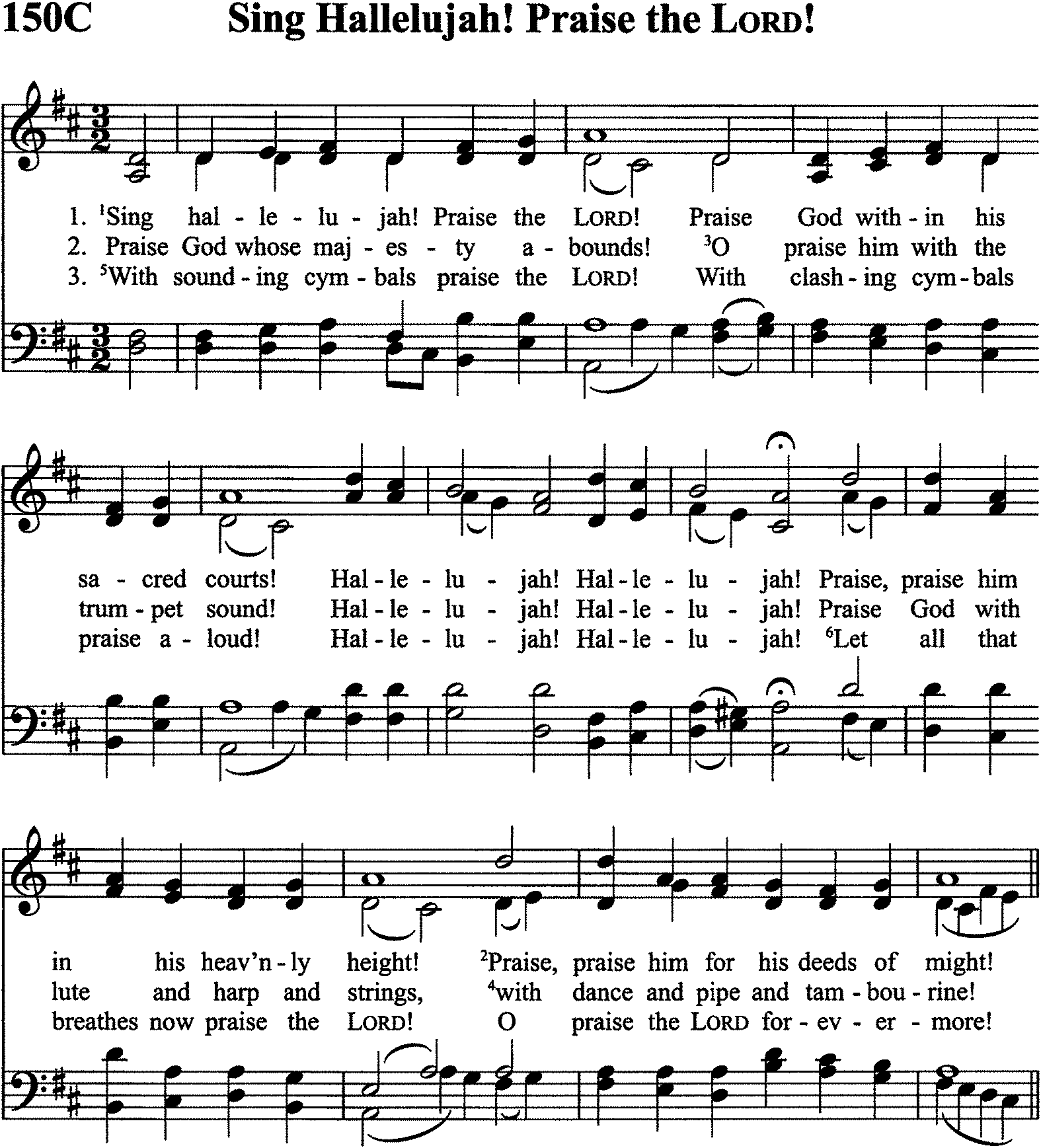 Reading of the Law: Matthew 22:34–40

(ESV)
One or all can read:
34 But when the Pharisees heard that he had silenced the Sadducees, they gathered together. 35 And one of them, a lawyer, asked him a question to test him. 36 "Teacher, which is the great commandment in the Law?" 37 And he said to him, "You shall love the Lord your God with all your heart and with all your soul and with all your mind. 38 This is the great and first commandment. 39 And a second is like it: You shall love your neighbor as yourself. 40 On these two commandments depend all the Law and the Prophets."
General Confession of Sin
Confess together:
O great and everlasting God, who dwells in unapproachable light, who searches and knows the thoughts and intentions of the heart, we confess that we have not loved you with all our heart, or with all our soul, or with all our mind, or with all our strength, or our neighbors as ourselves. We have loved what we ought not to have loved; we have coveted what is not ours; we have not been content with your provisions for us.
We have complained in our hearts about our family, about our friends, about our health, about our occupations, about your church, and about our trials. We have sought our security in those things which perish, rather than in you, the Everlasting God. Chasten, cleanse, and forgive us, through Jesus Christ, who is able for all time to save us who approach you through him, since he always lives to make intercession for us. Amen.
Silent Confession of Sin
Take a moment to confess your sins privately.
Reading of the Gospel: Matthew 1:21

(ESV)
One or all can read:
21 She will bear a son, and you shall call his name Jesus, for he will save his people from their sins."
Confession of Faith: Apostles' Creed
Read together:
I believe in God, the Father Almighty, Maker of heaven and earth.
And in Jesus Christ, His only begotten Son, our Lord; Who was conceived by the Holy Spirit, born of the virgin Mary; Suffered under Pontius Pilate; was crucified, dead, and buried; He descended into hell 1; The third day He rose again from the dead; He ascended into heaven, and sitteth at the right hand of God the Father Almighty; From thence He shall come to judge the living and the dead.
I believe in the Holy Spirit. I believe a holy catholic 2 church, the communion of saints; The forgiveness of sins; The resurrection of the body; And the life everlasting. Amen.
We confess that Jesus descended into hell figuratively, not literally. He suffered the pain of hell in His earthly ministry and on the cross in our place. (See Heidelberg Catechism question and answer 44.)

"Catholic" here means universal, affirming that there has always been and will always be only one true Christian Church.
Family Prayer
One can pray or all can take turns praying for the needs of your family, our church, the state, and the world.
Please pray for the specific requests from our church family:
Thank you for your prayers for Pastor Tom's sister Laura, who had a brain aneurysm Wednesday night. She is now off the ventilator and is improving. Please continue to pray for her recovery.

Please continue to pray for Jim Harmsen's brother-in-law Bill Bouwman, whose health is failing (cardiac and respiratory issues). Please pray for healing, peace, and comfort in Christ.

Please continue to pray for Bobby Esquibel's son Bobby Jr. and Bobby Jr.'s wife Natalie, whose twins have died in utero. Please pray also that Bobby Jr. and Natalie will come to know Christ and the power of His resurrection. Pray that God would have mercy on this family.

Please continue to pray for Holly Stafford's brother Kirk, who is suffering from serious health issues. Pray also for his salvation. In addition, please continue to pray for Holly's parents, Fernando and Randy, who are also concerned about Kirk.

Please continue to pray for Jerry Verhague's grandfather, Greg, who has cancer. We are grateful that his prognosis seems very good.

Please continue to pray for Bob and Ruth Mendoza's daughter Brita, who contracted COVID.

Please continue to pray for Bob and Ruth Mendoza's daughter Sarah, who's been having neurological issues that has required intensive medical attention.

Please continue to pray for Bob Mendoza's recovery from his stroke. He is receiving therapy to restore strength to his left arm and left leg.

Thank you for your prayers for Flora Krook's friend Grace. She had a successful craniotomy surgery and has recovered much faster than anticipated! Please continue to pray for her recovery process.

Please continue to pray for Lindsey and Courtney's grandfather, Dwayne. He was recently diagnosed with cancer.

Please pray for Pastor Adam Kaloostian, who is planting a church in Ventura.

Please pray for Kerri Holston's nephew, Stephen. He is currently in renal failure needing dialysis. Also, pray for Kerri's mother, Sandra, who lost her husband recently.

Please continue to pray for Craig and Sheila's son Michael during his year-long deployment to Poland.

The surgery for Michael's wife Mila has been postponed as her doctors are trying non-surgical procedures to alleviate her issues. If those are unsuccessful, they may still operate when Michael returns from Poland in a year. Please continue to pray for her health.

Please pray for Joyce Chiacchiera's 20-year-old grandson Marcus, who was recently diagnosed with early-onset glaucoma. His doctors are confident that his condition can be managed with medication. Please pray for his health as he receives treatment.

Thank God that Joseph Velasco's uncle Jamie is home from the hospital after contracting COVID. He is recovering slowly. Please continue to pray for a complete recovery and for his salvation.

Please continue to pray for MichalAnn Hill's friend Ryan. A potential donor for a kidney transplant didn't work out. Pray that another donor would be found soon.

Please continue to pray for Elena Velasco's father, Martin, who has been diagnosed with cancer. Please pray for his healing and comfort in Christ. Please also pray for comfort for Elena's mother Maria, and for Elena and the rest of the family.

Praise God that baby Brody, the son of the Phatinawins' friends Aaron and Annie, is now at home! He has a long way to recovery, though. He can't take in food by mouth yet, so he's only receiving artificial feeding. Please continue to pray for him and his parents as he continues to receive treatment for his health condition, central conducting lymphatic anomaly (CCLA), which affects the lymphatic system (a vital part of the immune system).

Thank you for your prayers for Ann Hill's friend Steve Miller, who has stage four cancer. He has improved and continues treatment. Please continue to pray for him.

Please continue to pray for Jim Harmsen, who has been struggling with lung and heart issues. Pray also for Ruth's health.

Please continue to pray for the salvation of Janie McMillan's son, Steven.

Please continue to pray for the Morrisons' friend Hannah Keels, who has cancer, and for her husband Chuck. Hannah's condition is improving but she continues to receive chemo and radiation treatments.
The Lord's Prayer
All pray aloud:
Our Father who art in heaven, hallowed be thy name. Thy kingdom come. Thy will be done, on earth as it is in heaven. Give us this day our daily bread, and forgive us our debts, as we forgive our debtors; and lead us not into temptation, but deliver us from evil. For thine is the kingdom and the power and the glory forever. Amen.
Hymn of Preparation: Preserve Me, O My God
Listen to the tune (plays through all verses, with intro):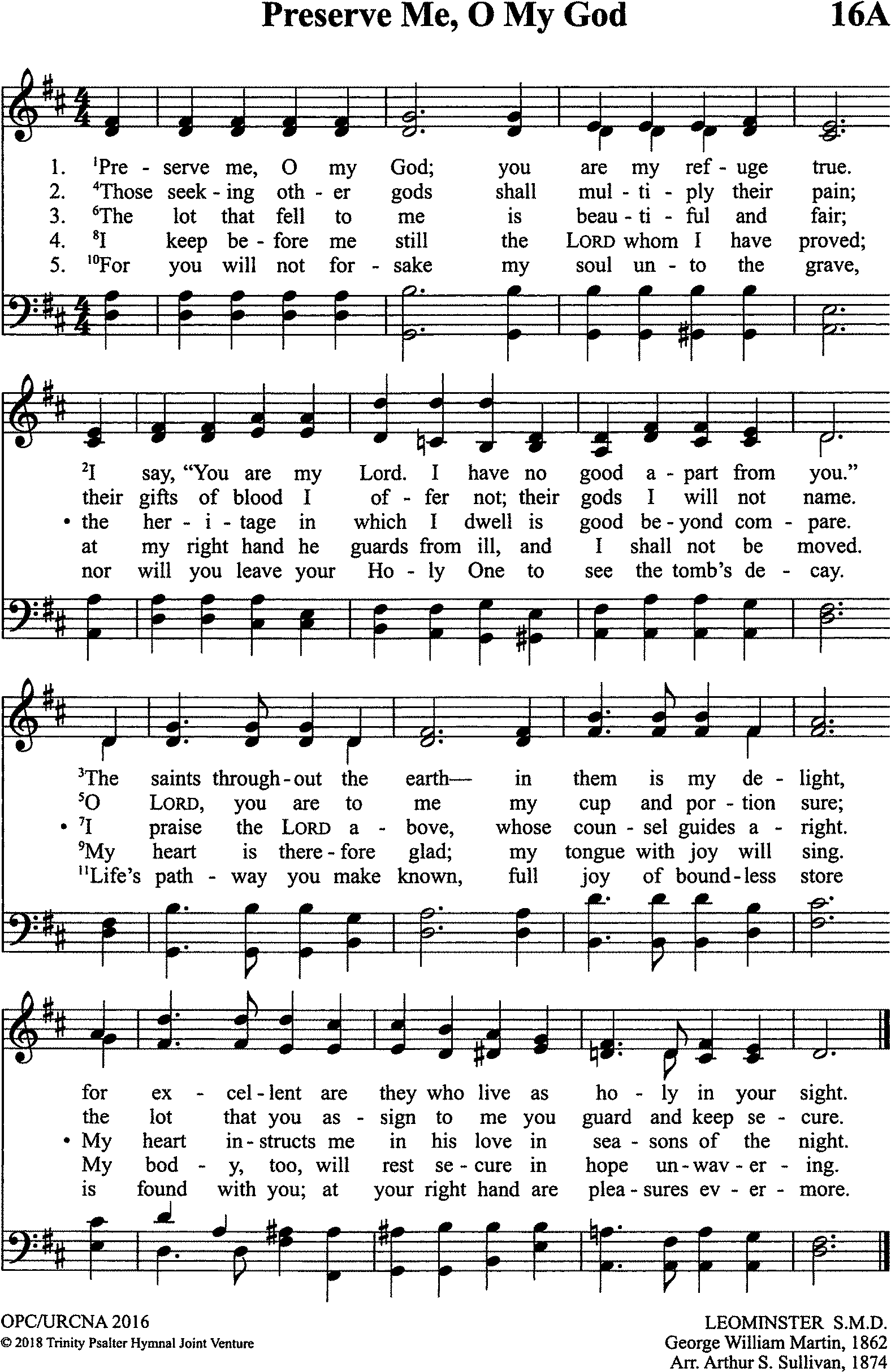 Sermon: "The Eyes Are On You" — Rev. Movses Janbazian
Preached at Pasadena URC on December 27, 2020 (used with permission)
Listen together. Listen online at https://urclearning.org/2021/02/05/psalm-143-the-eyes-are-on-you/. Read along with the scripture lessons below.
Old Testament Lesson: Psalm 143

(ESV)
A Psalm of David.
1 Hear my prayer, O Lord;
give ear to my pleas for mercy!
In your faithfulness answer me, in your righteousness!
2 Enter not into judgment with your servant,
for no one living is righteous before you.
3 For the enemy has pursued my soul;
he has crushed my life to the ground;
he has made me sit in darkness like those long dead.
4 Therefore my spirit faints within me;
my heart within me is appalled.
5 I remember the days of old;
I meditate on all that you have done;
I ponder the work of your hands.
6 I stretch out my hands to you;
my soul thirsts for you like a parched land. Selah
7 Answer me quickly, O Lord!
My spirit fails!
Hide not your face from me,
lest I be like those who go down to the pit.
8 Let me hear in the morning of your steadfast love,
for in you I trust.
Make me know the way I should go,
for to you I lift up my soul.
9 Deliver me from my enemies, O Lord!
I have fled to you for refuge.
10 Teach me to do your will,
for you are my God!
Let your good Spirit lead me
on level ground!
11 For your name's sake, O Lord, preserve my life!
In your righteousness bring my soul out of trouble!
12 And in your steadfast love you will cut off my enemies,
and you will destroy all the adversaries of my soul,
for I am your servant.

New Testament Lesson: 1 Corinthians 15:42–58

(ESV)
42 So is it with the resurrection of the dead. What is sown is perishable; what is raised is imperishable. 43 It is sown in dishonor; it is raised in glory. It is sown in weakness; it is raised in power. 44 It is sown a natural body; it is raised a spiritual body. If there is a natural body, there is also a spiritual body. 45 Thus it is written, "The first man Adam became a living being"; the last Adam became a life-giving spirit. 46 But it is not the spiritual that is first but the natural, and then the spiritual. 47 The first man was from the earth, a man of dust; the second man is from heaven. 48 As was the man of dust, so also are those who are of the dust, and as is the man of heaven, so also are those who are of heaven. 49 Just as we have borne the image of the man of dust, we shall also bear the image of the man of heaven.
50 I tell you this, brothers: flesh and blood cannot inherit the kingdom of God, nor does the perishable inherit the imperishable. 51 Behold! I tell you a mystery. We shall not all sleep, but we shall all be changed, 52 in a moment, in the twinkling of an eye, at the last trumpet. For the trumpet will sound, and the dead will be raised imperishable, and we shall be changed. 53 For this perishable body must put on the imperishable, and this mortal body must put on immortality. 54 When the perishable puts on the imperishable, and the mortal puts on immortality, then shall come to pass the saying that is written:
"Death is swallowed up in victory."
55 "O death, where is your victory?
O death, where is your sting?"

56 The sting of death is sin, and the power of sin is the law. 57 But thanks be to God, who gives us the victory through our Lord Jesus Christ.
58 Therefore, my beloved brothers, be steadfast, immovable, always abounding in the work of the Lord, knowing that in the Lord your labor is not in vain.
Hymn of Response: Rock of Ages, Cleft for Me
Listen to the tune (plays through all verses, with intro):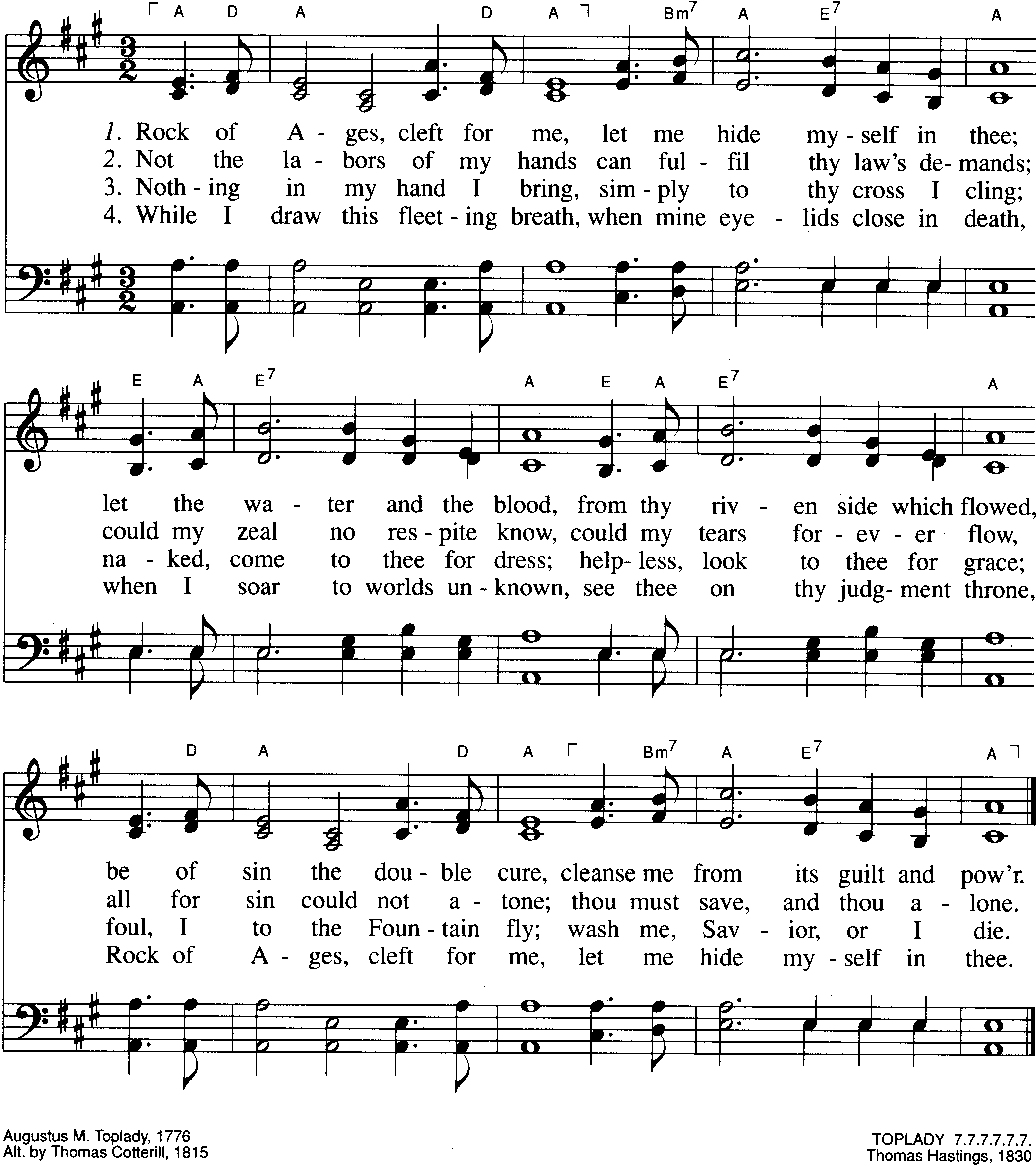 Gloria Patri
Sing together:
Glory be to the Father and to the Son and to the Holy Ghost. As it was in the beginning, is now and ever shall be, world without end. Amen. Amen.
Closing Prayer
One person can pray:
We thank you, heavenly Father, for your faithfulness in answering all of our prayers. In your steadfast love, you have cut off our enemies and destroyed the adversaries of our soul. Sin, death, and the devil no longer rule us; now the Holy Spirit rules us and ministers to us, together with you and the Son. Make our hearts grateful for your eternal Kingdom and its security. Help us this week, we pray, to honor you with our lives. In the name of Jesus Christ we pray, amen!
---
Offering
There are many ways to give to the church, even when you are unable to attend services in person. You can mail a check, or give online and even set up recurring giving using your bank's online bill pay or PayPal. Learn more ›
---
Updates from URCNA Missionaries
Pray for URC Missionaries
Pablo Landazuri — URC church planter in Quito, Ecuador
Pray for the new church plant, Luz de Vida (Light of Life), in south Quito.
Pray for Luz de Vida's Pastoral Training Program.
Please check urcnamissions.org for regular updates on our missionaries and the COVID-19 pandemic.