May 16, 2021
Worship Guide
This guide is designed for at least one family member to follow online to play audio for hymn tunes and the sermon. Others can follow along at guide.highdeserturc.org using their own devices, or using printed copies.
Need help with the Worship Guide? Have a suggestion? Email us.
The congregational meeting is taking place today after the first service. We will communicate the results of the budgetary vote to all members via Remind, and will be mailing a letter with some important announcements to members who are unable to attend.
Trinity Psalter Hymnal iPhone and iPad app now available. The app features full texts and music, professionally recorded tunes, full text search, and bookmarking of songs. Android version scheduled for release this summer. Download from App Store ›
Wednesday night Zoom study on R.C. Sproul's "The Holiness of God." Please join us Wednesdays at 7:00 pm to watch and discuss R.C. Sproul's video series on "The Holiness of God". Pastor Tom will send out a Remind message with the Zoom link the day of the study.
---
The 11:45 am worship service has returned to being a catechetical service rather than a second communion service. The 10:00 am service will continue to be a communion service. (You can still use this online worship guides if you prefer to worship from home.) Learn more about indoor worship ›
All members: schedule your home visitation if you haven't already! Pastor Tom and Elder Marty or Elder Joseph can visit you at home or online via Zoom. Schedule now ›
You can give online to High Desert URC, and even set up automatic monthly giving. See giving options ›
---
High Desert United Reformed Church · Hymns for May 16, 2021
Call to Worship
One person can pray:
Our great and powerful God in heaven, you are good and the overflowing fountain of all good. This is evident as we observe your creation. But you are also merciful and gracious, which is evident through the gift of your Son, our Lord Jesus Christ. As we worship you now, please bless us with the presence of the Holy Spirit. May he create new hearts within us as we hear your Word preached. May our worship please you despite its many imperfections. In the name of Jesus Christ we pray, amen!
Doxology
Sing together:
Praise God from whom all blessings flow; Praise him, all creatures here below; Praise him above, ye heav'nly host; Praise Father, Son, and Holy Ghost. Amen.
Hymn of Praise: As Thirsts the Hart for Water Brooks
Listen to the tune (plays through all verses, with intro):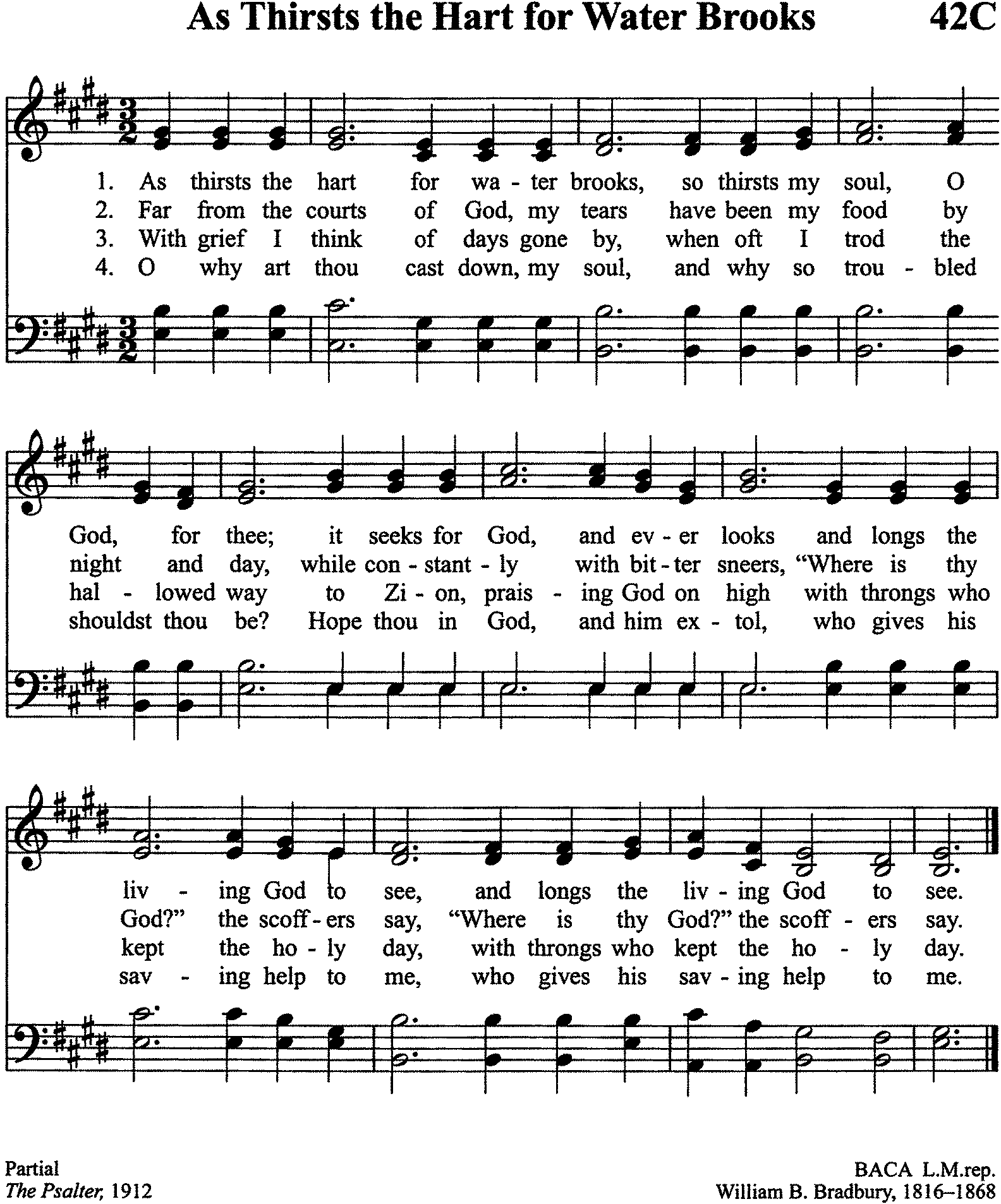 Reading of the Law: Matthew 22:34–40

(ESV)
One or all can read:
34 But when the Pharisees heard that he had silenced the Sadducees, they gathered together. 35 And one of them, a lawyer, asked him a question to test him. 36 "Teacher, which is the great commandment in the Law?" 37 And he said to him, "You shall love the Lord your God with all your heart and with all your soul and with all your mind. 38 This is the great and first commandment. 39 And a second is like it: You shall love your neighbor as yourself. 40 On these two commandments depend all the Law and the Prophets."
General Confession of Sin
Confess together:
O great and everlasting God, who dwells in unapproachable light, who searches and knows the thoughts and intentions of the heart, we confess that we have not loved you with all our heart, or with all our soul, or with all our mind, or with all our strength, or our neighbors as ourselves. We have loved what we ought not to have loved; we have coveted what is not ours; we have not been content with your provisions for us.
We have complained in our hearts about our family, about our friends, about our health, about our occupations, about your church, and about our trials. We have sought our security in those things which perish, rather than in you, the Everlasting God. Chasten, cleanse, and forgive us, through Jesus Christ, who is able for all time to save us who approach you through him, since he always lives to make intercession for us. Amen.
Silent Confession of Sin
Take a moment to confess your sins privately.
Reading of the Gospel: Matthew 27:45–54

(ESV)
One or all can read:
45 Now from the sixth hour there was darkness over all the land until the ninth hour. 46 And about the ninth hour Jesus cried out with a loud voice, saying, "Eli, Eli, lema sabachthani?" that is, "My God, my God, why have you forsaken me?" 47 And some of the bystanders, hearing it, said, "This man is calling Elijah." 48 And one of them at once ran and took a sponge, filled it with sour wine, and put it on a reed and gave it to him to drink. 49 But the others said, "Wait, let us see whether Elijah will come to save him." 50 And Jesus cried out again with a loud voice and yielded up his spirit.
51 And behold, the curtain of the temple was torn in two, from top to bottom. And the earth shook, and the rocks were split. 52 The tombs also were opened. And many bodies of the saints who had fallen asleep were raised, 53 and coming out of the tombs after his resurrection they went into the holy city and appeared to many. 54 When the centurion and those who were with him, keeping watch over Jesus, saw the earthquake and what took place, they were filled with awe and said, "Truly this was the Son of God!"
Confession of Faith: Apostles' Creed
Read together:
I believe in God, the Father Almighty, Maker of heaven and earth.
And in Jesus Christ, His only begotten Son, our Lord; Who was conceived by the Holy Spirit, born of the virgin Mary; Suffered under Pontius Pilate; was crucified, dead, and buried; He descended into hell 1; The third day He rose again from the dead; He ascended into heaven, and sitteth at the right hand of God the Father Almighty; From thence He shall come to judge the living and the dead.
I believe in the Holy Spirit. I believe a holy catholic 2 church, the communion of saints; The forgiveness of sins; The resurrection of the body; And the life everlasting. Amen.
We confess that Jesus descended into hell figuratively, not literally. He suffered the pain of hell in His earthly ministry and on the cross in our place. (See Heidelberg Catechism question and answer 44.)

"Catholic" here means universal, affirming that there has always been and will always be only one true Christian Church.
Family Prayer
One can pray or all can take turns praying for the needs of your family, our church, the state, and the world.
Please pray for the specific requests from our church family:
Remington Abigail Murphey was born this past Wednesday! She was 5 lbs, 11 oz. Baby and Laura are doing well. Please pray for Remington's health in these early days and for Laura's recovery from her C-section. Thank God for answered prayers for a healthy and safe delivery!

Please continue to pray for Maarten Verweij as he mourns the loss of his mother. Also, he contracted COVID and is recovering in the Netherlands. Pray for him and for Jenna, Jakob, and Jonathan while he is absent from them.

Please pray for Flora Krook's friend Grace, who is 17 and has recently been diagnosed with a serious brain condition causing seizures.

Please pray for Lindsey and Courtney Osburn's grandfather Dwayne. He's been admitted to the hospital with fluid on the lungs, but thankfully he has been improving!

Please pray for Bob and Ruth Mendoza's daughter Sarah, who's been having neurological issues that has required intensive medical attention.

Bob Mendoza was recently diagnosed with a stroke. He is now receiving therapy to restore strength to his left arm and left leg. Please continue to pray for a quick recovery.

Thank you for your prayers for Craig and Sheila's son Michael. He has left for a year-long deployment to Poland. Please pray for him as he serves our country.

The surgery for Michael's wife Mila has been postponed as her doctors are trying non-surgical procedures to alleviate her issues. If those are unsuccessful, they may still operate when Michael returns from Poland in a year. Please continue to pray for her health.

Please pray for Joyce Chiacchiera's 20-year-old grandson Marcus, who was recently diagnosed with early-onset glaucoma. His doctors are confident that his condition can be managed with medication. Please pray for his health as he receives treatment.

Thank God that Joseph Velasco's uncle Jamie is home from the hospital after contracting COVID. He is recovering slowly. Please continue to pray for a complete recovery and for his salvation.

Please continue to pray for MichalAnn Hill's friend Ryan. A potential donor for a kidney transplant didn't work out. Pray that another donor would be found soon.

Please continue to pray for Elena Velasco's father, Martin, who has been diagnosed with cancer. Please pray for his healing and comfort in Christ. Please also pray for comfort for Elena's mother Maria, and for Elena and the rest of the family.

Praise God that baby Brody, the son of the Phatinawins' friends Aaron and Annie, is now at home! He has a long way to recovery, though. He can't take in food by mouth yet, so he's only receiving artificial feeding. Please continue to pray for him and his parents as he continues to receive treatment for his health condition, central conducting lymphatic anomaly (CCLA), which affects the lymphatic system (a vital part of the immune system).

Please continue pray for Ann Hill's friend Steve Miller, who has stage four cancer.

Please continue to pray for Jim Harmsen, who has been struggling with lung and heart issues. Pray also for Ruth's health.

Please continue to pray for the salvation of Janie McMillan's son, Steven.

Please continue to pray for the Morrisons' friend Hannah Keels, who has cancer, and for her husband Chuck. Hannah's condition is improving but she continues to receive chemo and radiation treatments.
The Lord's Prayer
All pray aloud:
Our Father who art in heaven, hallowed be thy name. Thy kingdom come. Thy will be done, on earth as it is in heaven. Give us this day our daily bread, and forgive us our debts, as we forgive our debtors; and lead us not into temptation, but deliver us from evil. For thine is the kingdom and the power and the glory forever. Amen.
Hymn of Preparation: Who with God Most High Finds Shelter
Listen to the tune (plays through all verses, with intro):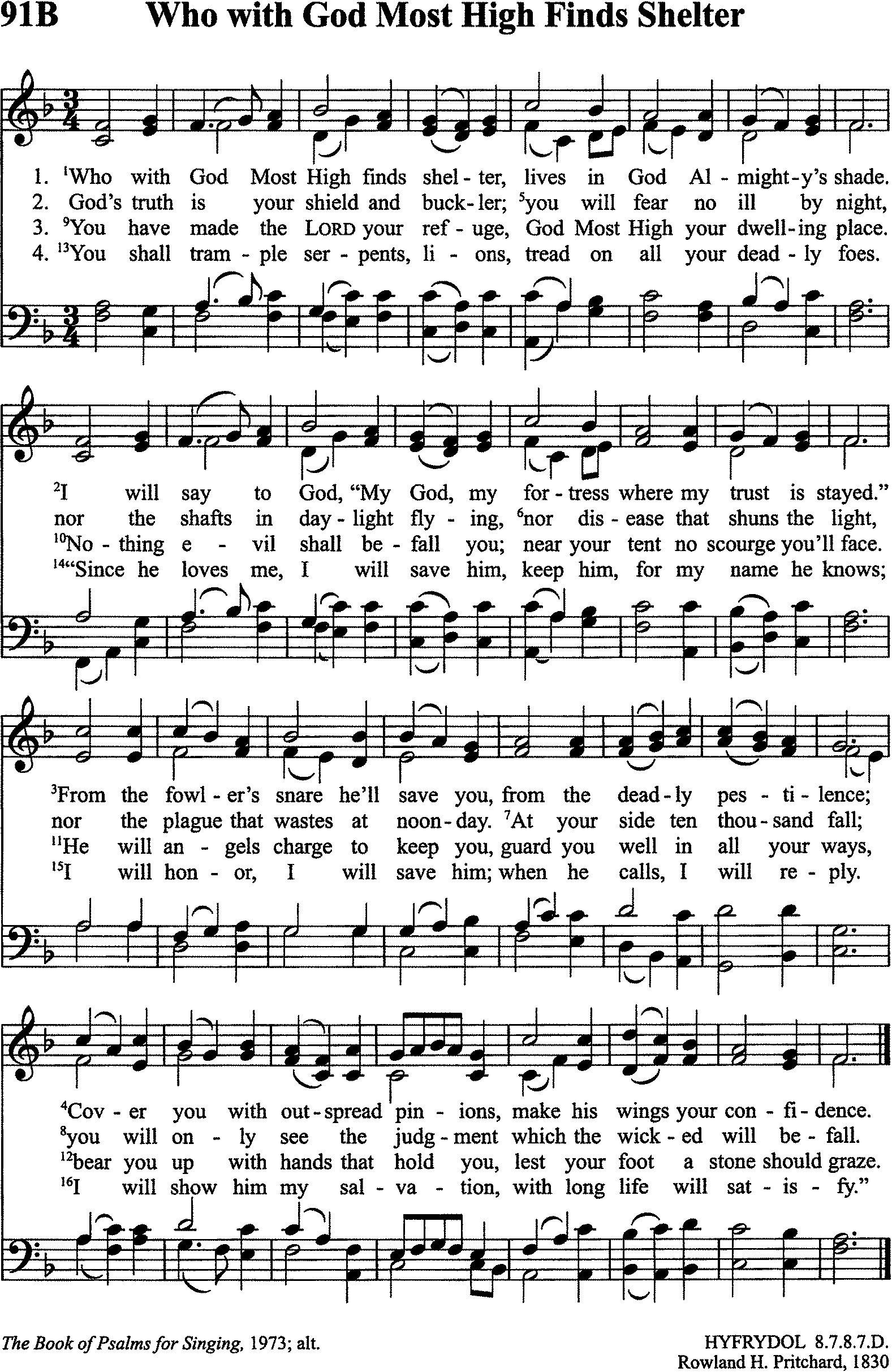 Sermon: "The Just Judgment of God" — Rev. Tom Morrison
Listen together. Listen online at https://urclearning.org/2021/05/15/revelation-155-1621-real-security/. Read along with the scripture lessons below.
Old Testament Lesson: Deuteronomy 32:4

(ESV)
4 "The Rock, his work is perfect,
for all his ways are justice.
A God of faithfulness and without iniquity,
just and upright is he.

New Testament Lesson: Revelation 15:5 – 16:21

(ESV)
5 After this I looked, and the sanctuary of the tent of witness in heaven was opened, 6 and out of the sanctuary came the seven angels with the seven plagues, clothed in pure, bright linen, with golden sashes around their chests. 7 And one of the four living creatures gave to the seven angels seven golden bowls full of the wrath of God who lives forever and ever, 8 and the sanctuary was filled with smoke from the glory of God and from his power, and no one could enter the sanctuary until the seven plagues of the seven angels were finished.
1 Then I heard a loud voice from the temple telling the seven angels, "Go and pour out on the earth the seven bowls of the wrath of God."
2 So the first angel went and poured out his bowl on the earth, and harmful and painful sores came upon the people who bore the mark of the beast and worshiped its image.
3 The second angel poured out his bowl into the sea, and it became like the blood of a corpse, and every living thing died that was in the sea.
4 The third angel poured out his bowl into the rivers and the springs of water, and they became blood. 5 And I heard the angel in charge of the waters say,
"Just are you, O Holy One, who is and who was,
for you brought these judgments.
6 For they have shed the blood of saints and prophets,
and you have given them blood to drink.
It is what they deserve!"

7 And I heard the altar saying,
"Yes, Lord God the Almighty,
true and just are your judgments!"

8 The fourth angel poured out his bowl on the sun, and it was allowed to scorch people with fire. 9 They were scorched by the fierce heat, and they cursed the name of God who had power over these plagues. They did not repent and give him glory.
10 The fifth angel poured out his bowl on the throne of the beast, and its kingdom was plunged into darkness. People gnawed their tongues in anguish 11 and cursed the God of heaven for their pain and sores. They did not repent of their deeds.
12 The sixth angel poured out his bowl on the great river Euphrates, and its water was dried up, to prepare the way for the kings from the east. 13 And I saw, coming out of the mouth of the dragon and out of the mouth of the beast and out of the mouth of the false prophet, three unclean spirits like frogs. 14 For they are demonic spirits, performing signs, who go abroad to the kings of the whole world, to assemble them for battle on the great day of God the Almighty. 15 ("Behold, I am coming like a thief! Blessed is the one who stays awake, keeping his garments on, that he may not go about naked and be seen exposed!") 16 And they assembled them at the place that in Hebrew is called Armageddon.
17 The seventh angel poured out his bowl into the air, and a loud voice came out of the temple, from the throne, saying, "It is done!" 18 And there were flashes of lightning, rumblings, peals of thunder, and a great earthquake such as there had never been since man was on the earth, so great was that earthquake. 19 The great city was split into three parts, and the cities of the nations fell, and God remembered Babylon the great, to make her drain the cup of the wine of the fury of his wrath. 20 And every island fled away, and no mountains were to be found. 21 And great hailstones, about one hundred pounds each, fell from heaven on people; and they cursed God for the plague of the hail, because the plague was so severe.
Hymn of Response: Rejoice, the Lord is King
Listen to the tune (plays through all verses, with intro):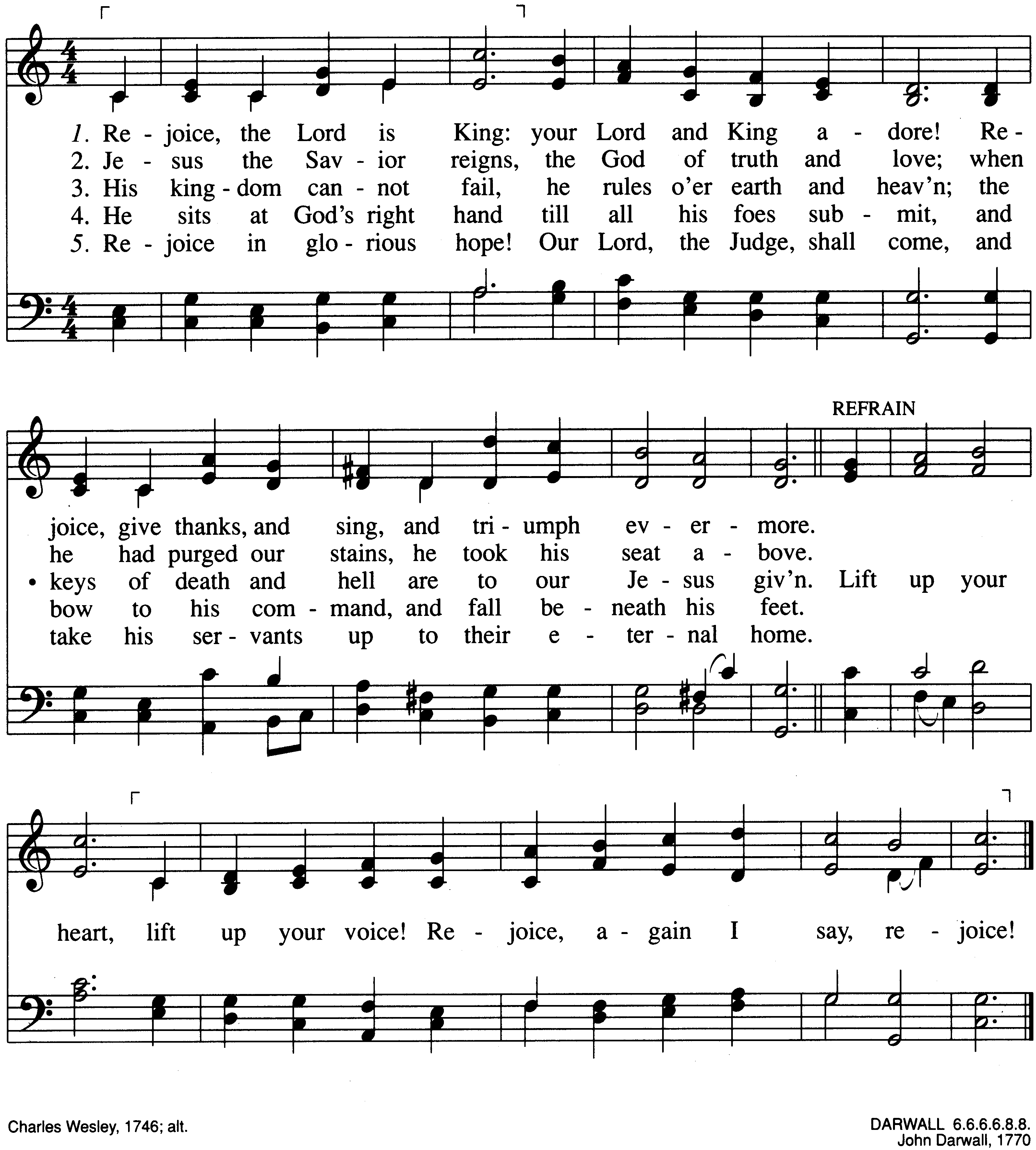 Gloria Patri
Sing together:
Glory be to the Father and to the Son and to the Holy Ghost. As it was in the beginning, is now and ever shall be, world without end. Amen. Amen.
Closing Prayer
One person can pray:
We thank you, our gracious heavenly Father, for the opportunity to worship you this day. As we begin a new week, help us to remember the wonderful things we have heard in your Word. Please work in us that we would despise our sin and hunger and thirst after righteousness. Forgive us of our sins, in the name of Jesus Christ we pray, amen!
---
Offering
There are many ways to give to the church, even when you are unable to attend services in person. You can mail a check, or give online and even set up recurring giving using your bank's online bill pay or PayPal. Learn more ›
---
Updates from URCNA Missionaries
Pray for URC Missionaries
Pastor Michael Brown — church planter of Chiesa Riformata Filadelfia in Milan, Italy
Pray that the 7 people attending the new members' course would be encouraged in their faith and find a welcoming church home in Chiesa Riformata Filadelfia.
Pray that Ester Marino would be prepared to make a profession of faith and received as a communicant member.
Pray that Chiesa Riformata Filadelfia would continue to grow and persevere, especially amid the many challenges of the pandemic.
Please check urcnamissions.org for regular updates on our missionaries and the COVID-19 pandemic.