February 21, 2021
Worship Guide
This guide is designed for at least one family member to follow online to play audio for hymn tunes and the sermon. Others can follow along at guide.highdeserturc.org using their own devices, or using printed copies.
Need help with the Worship Guide? Have a suggestion? Email us.
NEW — Indoor worship services at Spring Valley Lake Community Center have resumed at 10:00 AM and 11:45 AM. Seating is limited, so RSVPs are required. (You can still use the online worship guides if you prefer to worship from home.) Learn more about indoor worship ›
Wednesday night Zoom study on R.C. Sproul's "A Blueprint for Thinking." At 7pm on Wednesdays from February 10 through March 10, we'll watch and then discuss a lecture from R.C. Sproul's five-part series on thinking (and thinking Christianly). All are invited! Pastor Tom will send out the Zoom link for the study via Remind on Tuesday night.
---
All members: schedule your home visitation if you haven't already! Pastor Tom and Elder Marty or Elder Joseph can visit you at home or online via Zoom. Schedule now ›
You can give online to High Desert URC, and even set up automatic monthly giving. See giving options ›
Membership class: Pastor Tom will be leading a membership class each Sunday immediately following the worship service at Hesperia Lake Park. All are invited. Please email him at pastor@highdeserturc.org if you plan to attend so he can make copies of the membership packet.
Sermon discussion questions: parents, consider reminding your children of the importance of both hearing the Scriptures read and preached. You can ask them the sermon discussion questions before listening to the sermon to help them focus and follow along.
---
High Desert United Reformed Church · Hymns for February 21, 2021
Call to Worship
One person can pray:
We thank you, our heavenly Father, for our strong Christ. For the Spirit of the Lord rested upon him in his earthly ministry, the Spirit of wisdom and understanding, the Spirit of counsel and might, the Spirit of knowledge and the fear of the Lord. The courage and strength of Jesus won salvation for us at the cross of shame. Thank you that you raised him from the dead for our justification and life. We pray that you would fill us with the Holy Spirit as we worship you now. Please accept our worship despite its many imperfections. In the name of Christ we pray, amen.
Doxology
Sing together:
Praise God from whom all blessings flow; Praise him, all creatures here below; Praise him above, ye heav'nly host; Praise Father, Son, and Holy Ghost. Amen.
Hymn of Praise: Why Do the Heathen Nations Rage?
Listen to the tune (plays through all verses, with intro):
Reading of the Law: Romans 12:1–2

(ESV)
One or all can read:
1 I appeal to you therefore, brothers, by the mercies of God, to present your bodies as a living sacrifice, holy and acceptable to God, which is your spiritual worship. 2 Do not be conformed to this world, but be transformed by the renewal of your mind, that by testing you may discern what is the will of God, what is good and acceptable and perfect.
General Confession of Sin
Confess together:
O great and everlasting God, who dwells in unapproachable light, who searches and knows the thoughts and intentions of the heart, we confess that we have not loved you with all our heart, or with all our soul, or with all our mind, or with all our strength, or our neighbors as ourselves. We have loved what we ought not to have loved; we have coveted what is not ours; we have not been content with your provisions for us.
We have complained in our hearts about our family, about our friends, about our health, about our occupations, about your church, and about our trials. We have sought our security in those things which perish, rather than in you, the Everlasting God. Chasten, cleanse, and forgive us, through Jesus Christ, who is able for all time to save us who approach you through him, since he always lives to make intercession for us. Amen.
Silent Confession of Sin
Take a moment to confess your sins privately.
Reading of the Gospel: Romans 3:21–26

(ESV)
One or all can read:
21 But now the righteousness of God has been manifested apart from the law, although the Law and the Prophets bear witness to it—22 the righteousness of God through faith in Jesus Christ for all who believe. For there is no distinction: 23 for all have sinned and fall short of the glory of God, 24 and are justified by his grace as a gift, through the redemption that is in Christ Jesus, 25 whom God put forward as a propitiation by his blood, to be received by faith. This was to show God's righteousness, because in his divine forbearance he had passed over former sins. 26 It was to show his righteousness at the present time, so that he might be just and the justifier of the one who has faith in Jesus.
Confession of Faith: Apostles' Creed
Read together:
I believe in God, the Father Almighty, Maker of heaven and earth.
And in Jesus Christ, His only begotten Son, our Lord; Who was conceived by the Holy Spirit, born of the virgin Mary; Suffered under Pontius Pilate; was crucified, dead, and buried; He descended into hell 1; The third day He rose again from the dead; He ascended into heaven, and sitteth at the right hand of God the Father Almighty; From thence He shall come to judge the living and the dead.
I believe in the Holy Spirit. I believe a holy catholic 2 church, the communion of saints; The forgiveness of sins; The resurrection of the body; And the life everlasting. Amen.
We confess that Jesus descended into hell figuratively, not literally. He suffered the pain of hell in His earthly ministry and on the cross in our place. (See Heidelberg Catechism question and answer 44.)

"Catholic" here means universal, affirming that there has always been and will always be only one true Christian Church.
Family Prayer
One can pray or all can take turns praying for the needs of your family, our church, the state, and the world.
Please pray for the specific requests from our church family:
Please pray for Craig and Sheila Boyd's son Michael, as he will be deployed soon to Poland to serve in the military.

Praise God that Mike Hill's brother Jacob, who had COVID and pneumonia, has recovered!

Please continue to pray for Joseph Velasco's uncle Jamie. He has COVID and is currently in the hospital. He is intubated and in critical condition, but he's showing signs of improvement. Please pray for his salvation.

Please continue to pray for MichalAnn Hill's friend Ryan. A potential donor for a kidney transplant didn't work out. Pray that another donor would be found soon.

Elena Velasco's sister, Gabriella, is pregnant! Please continue to pray for her and her baby.

Please continue to pray for Elena Velasco's father, Martin, who has been diagnosed with cancer. Please pray for his healing and comfort in Christ. Please also pray for comfort for Elena's mother Maria, and for Elena and the rest of the family.

Please continue to pray for Joyce Chiacchiera, who was recently diagnosed with skin cancer. Please pray for healing and for peace.

Praise God that baby Brody, the son of the Phatinawins' friends Aaron and Annie, is now at home! He has a long way to recovery, though. He can't take in food by mouth yet, so he's only receiving artificial feeding. Please continue to pray for him and his parents as he continues to receive treatment for his health condition, central conducting lymphatic anomaly (CCLA), which affects the lymphatic system (a vital part of the immune system).

Please continue to pray for the Boyds' daughter-in-law, Mila. She is still waiting for surgery. Pray for good health in the meantime, and for patience!

Praise God that Mikaelan Martinez is pregnant! Please continue pray for her and baby and for Jonah.

Please continue pray for Ann Hill's friend Steve Miller, who has stage four cancer.

Please continue to pray for Jim Harmsen, who has been struggling with lung and heart issues. Pray also for Ruth's health.

Please continue to pray for Bob Mendoza, who continues to struggle with severe back pain. Please also pray for Ruth, who has several health issues that are being addressed by her doctors.

Please continue to pray for the salvation of Janie McMillan's son, Steven.

Please continue to pray for the Morrisons' friend Hannah Keels, who has cancer, and for her husband Chuck. Hannah's condition is improving but she continues to receive chemo and radiation treatments.
The Lord's Prayer
All pray aloud:
Our Father who art in heaven, hallowed be thy name. Thy kingdom come. Thy will be done, on earth as it is in heaven. Give us this day our daily bread, and forgive us our debts, as we forgive our debtors; and lead us not into temptation, but deliver us from evil. For thine is the kingdom and the power and the glory forever. Amen.
Hymn of Preparation: Praise the

L

ord! My Soul, O Praise Him!
Listen to the tune (plays through all verses, with intro):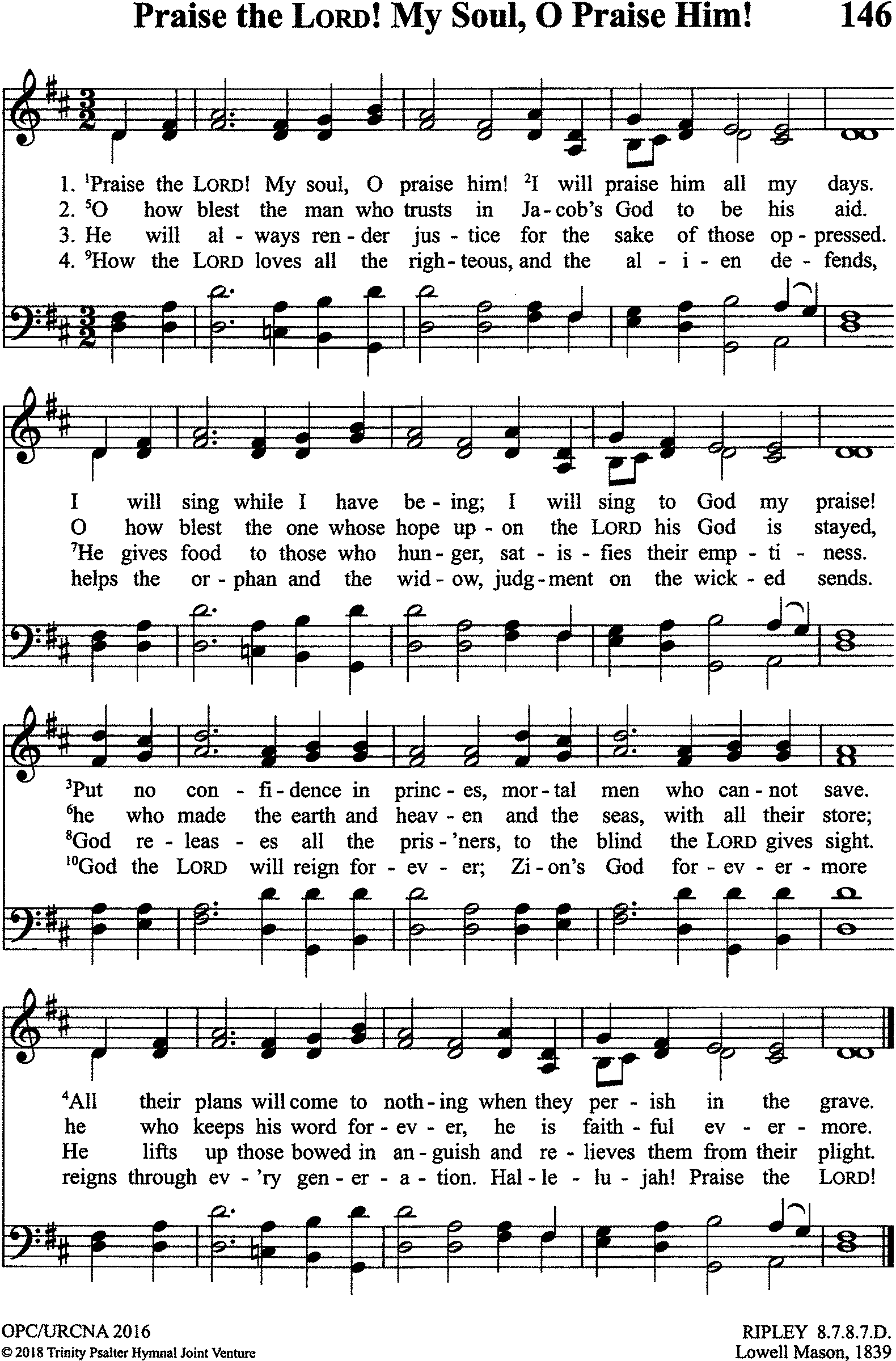 Sermon: "The Focus of Our Existence" — Rev. Tom Morrison
Listen together. Listen online at https://urclearning.org/2021/02/20/revelation-5-sermon-the-focus-of-our-existence/. Read along with the scripture lessons below.
(See sermon discussion questions below.)
Old Testament Lesson: Genesis 49:8–12

(ESV)
8 "Judah, your brothers shall praise you;
your hand shall be on the neck of your enemies;
your father's sons shall bow down before you.
9 Judah is a lion's cub;
from the prey, my son, you have gone up.
He stooped down; he crouched as a lion
and as a lioness; who dares rouse him?
10 The scepter shall not depart from Judah,
nor the ruler's staff from between his feet,
until tribute comes to him;
and to him shall be the obedience of the peoples.
11 Binding his foal to the vine
and his donkey's colt to the choice vine,
he has washed his garments in wine
and his vesture in the blood of grapes.
12 His eyes are darker than wine,
and his teeth whiter than milk.

New Testament Lesson: Revelation 5

(ESV)
1 Then I saw in the right hand of him who was seated on the throne a scroll written within and on the back, sealed with seven seals. 2 And I saw a mighty angel proclaiming with a loud voice, "Who is worthy to open the scroll and break its seals?" 3 And no one in heaven or on earth or under the earth was able to open the scroll or to look into it, 4 and I began to weep loudly because no one was found worthy to open the scroll or to look into it. 5 And one of the elders said to me, "Weep no more; behold, the Lion of the tribe of Judah, the Root of David, has conquered, so that he can open the scroll and its seven seals."
6 And between the throne and the four living creatures and among the elders I saw a Lamb standing, as though it had been slain, with seven horns and with seven eyes, which are the seven spirits of God sent out into all the earth. 7 And he went and took the scroll from the right hand of him who was seated on the throne. 8 And when he had taken the scroll, the four living creatures and the twenty-four elders fell down before the Lamb, each holding a harp, and golden bowls full of incense, which are the prayers of the saints. 9 And they sang a new song, saying,
"Worthy are you to take the scroll
and to open its seals,
for you were slain, and by your blood you ransomed people for God
from every tribe and language and people and nation,
10 and you have made them a kingdom and priests to our God,
and they shall reign on the earth."

11 Then I looked, and I heard around the throne and the living creatures and the elders the voice of many angels, numbering myriads of myriads and thousands of thousands, 12 saying with a loud voice,
"Worthy is the Lamb who was slain,
to receive power and wealth and wisdom and might
and honor and glory and blessing!"

13 And I heard every creature in heaven and on earth and under the earth and in the sea, and all that is in them, saying,
"To him who sits on the throne and to the Lamb
be blessing and honor and glory and might forever and ever!"

14 And the four living creatures said, "Amen!" and the elders fell down and worshiped.
Hymn of Response: O for a Thousand Tongues to Sing
Listen to the tune (plays through all verses, with intro):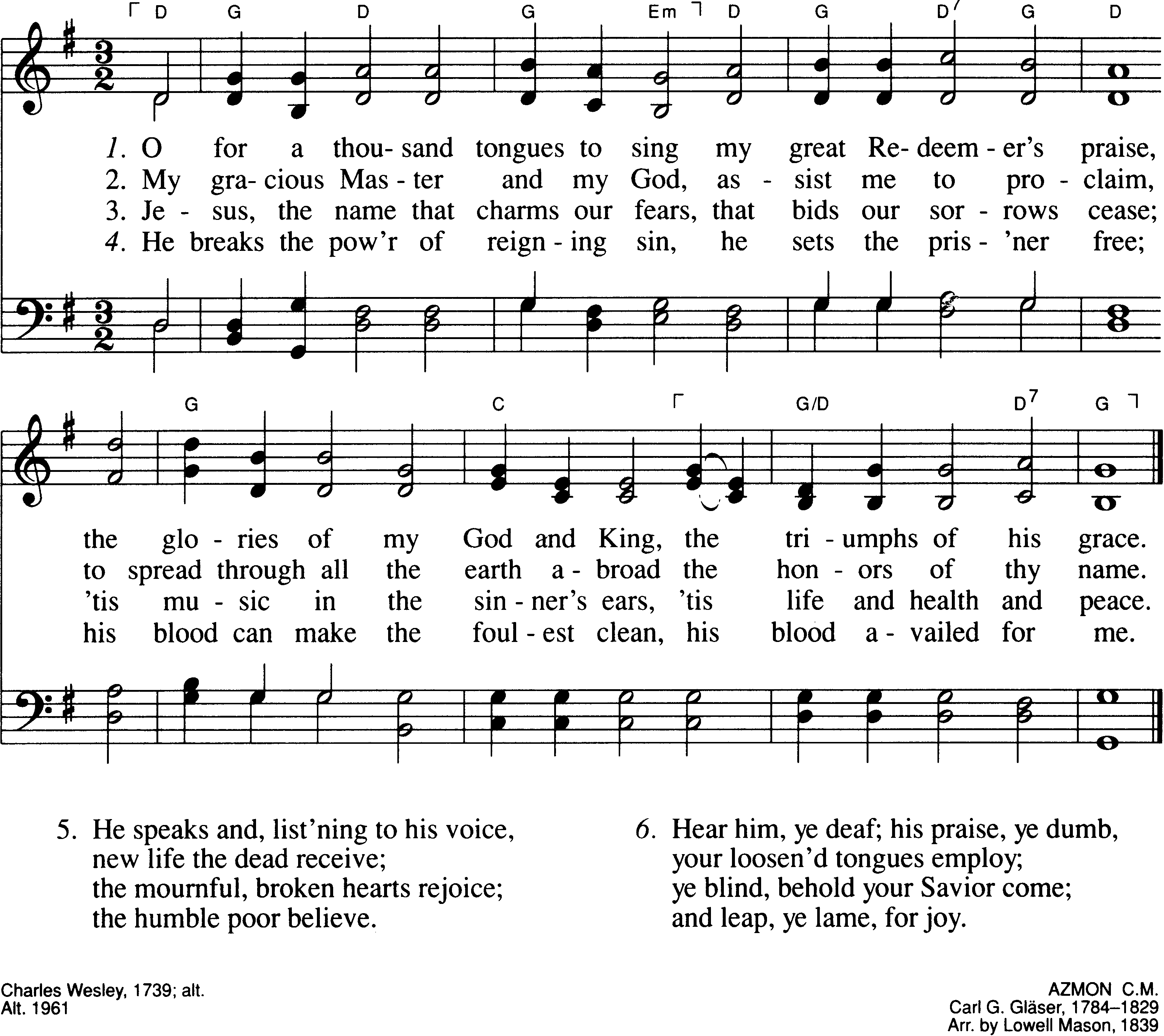 Gloria Patri
Sing together:
Glory be to the Father and to the Son and to the Holy Ghost. As it was in the beginning, is now and ever shall be, world without end. Amen. Amen.
Closing Prayer
One person can pray:
We thank you, our great God in heaven, for the preaching of your Word, through which we are strengthened in our faith. Thank you for Jesus Christ, the Lamb of God who takes away the sins of the world. Thank you that his shed blood has purchased us for you, and that we now have the opportunity to know you and worship you for eternity. Help us, we pray, to focus on Jesus Christ and the worship he deserves. Turn our hearts toward him and away from worldly things. In the name of Jesus Christ we pray, amen!
---
Offering
There are many ways to give to the church, even when you are unable to attend services in person. You can mail a check, or give online and even set up recurring giving using your bank's online bill pay or PayPal. Learn more ›
---
Updates from URCNA Missionaries
Pray for URC Missionaries
Rev. Brian Cochran — URCNA church planter in Regina, Saskatchewan, Canada
Give thanks to God that in the midst of the government restrictions due to

COVID

-19 we can still gather in groups of 30 for corporate worship. For a few months now we have been hosting three in-person services that consistently fill up with 90 people total (about 2/3 members and 1/3 regular visitors).
Thank God for all the visitors we've been having and pray that they would grow in Christ through our Redeemer Basic Training (membership class) and become members of our church. Thank God for the growth we've also had through covenant children lately.
Pray that God would strengthen our pastor, two elders and deacon to continue to serve Christ's church faithfully in their callings as office-bearers during these difficult times. Pray that God would raise up more gifted and qualified men to serve as elders and deacons.
Please check urcnamissions.org for regular updates on our missionaries and the COVID-19 pandemic.
---
Sermon Discussion Questions
What does the scroll with the seven seals, in the right hand of God, contain?
It contains the plan of God for the human race — everything that will happen in history, with a special focus on the judgement and salvation of people.
Why does John weep loudly when it is clear that no one can open the scroll or look into it?
Because if no one opens the scroll, the plan of God, including the redemption of God's elect, cannot be achieved.
But someone is found who can open the seal. Who is it?
Jesus Christ, the lion of the tribe of Judah, the Root of David who is also the lamb standing as if slain with seven horns and seven eyes, which are the seven spirits of God.
What is the significance of the different symbols of Christ?
The lion is a reference to the power of Jesus Christ to save us from our greatest foe, the devil. Jesus saves us and forgives our sins through his death on the cross, which is symbolized by a lamb having been slain (like the Passover Lamb of the Old Testament). The seven horns also symbolize power. The seven eyes are the seven spirits of God, which symbolize the Holy Spirit.
As Christians, what do we come to understand about ourselves as we grow older and mature?
Our sin and wickedness.
From our lowly position of sin, what do we come to understand and appreciate about what God has done for us?
That God the Father sent Jesus Christ his Son to die for us and to be raised for us.
What, then, fuels our worship and motivates us to worship Jesus?
His finished work on the cross and his resurrection from the dead.