Worship Guide
May 24, 2020
This guide is designed for at least one family member to follow online to play audio for hymn tunes and the sermon. Others can follow along at guide.highdeserturc.org using their own devices, or using printed copies.
Need help with the Worship Guide? Have a suggestion? Email us.
---
High Desert United Reformed Church · Hymns for May 24, 2020
Call to Worship
One person can pray:
Our great God in heaven, you fill heaven and earth; your thoughts are higher than our thoughts, your ways higher than our ways. We praise you as the Lord who is far away, yet near to us in Jesus Christ. Please come to us now by the power of the Holy Spirit and bless our worship. May our worship please you despite its many imperfections. In Christ's name we pray, amen.
Doxology
Sing together:
Praise God from whom all blessings flow; Praise him, all creatures here below; Praise him above, ye heav'nly host; Praise Father, Son, and Holy Ghost. Amen.
Hymn of Praise: Great Is the

L

ord Our God
Listen to the tune (plays through all verses, with intro):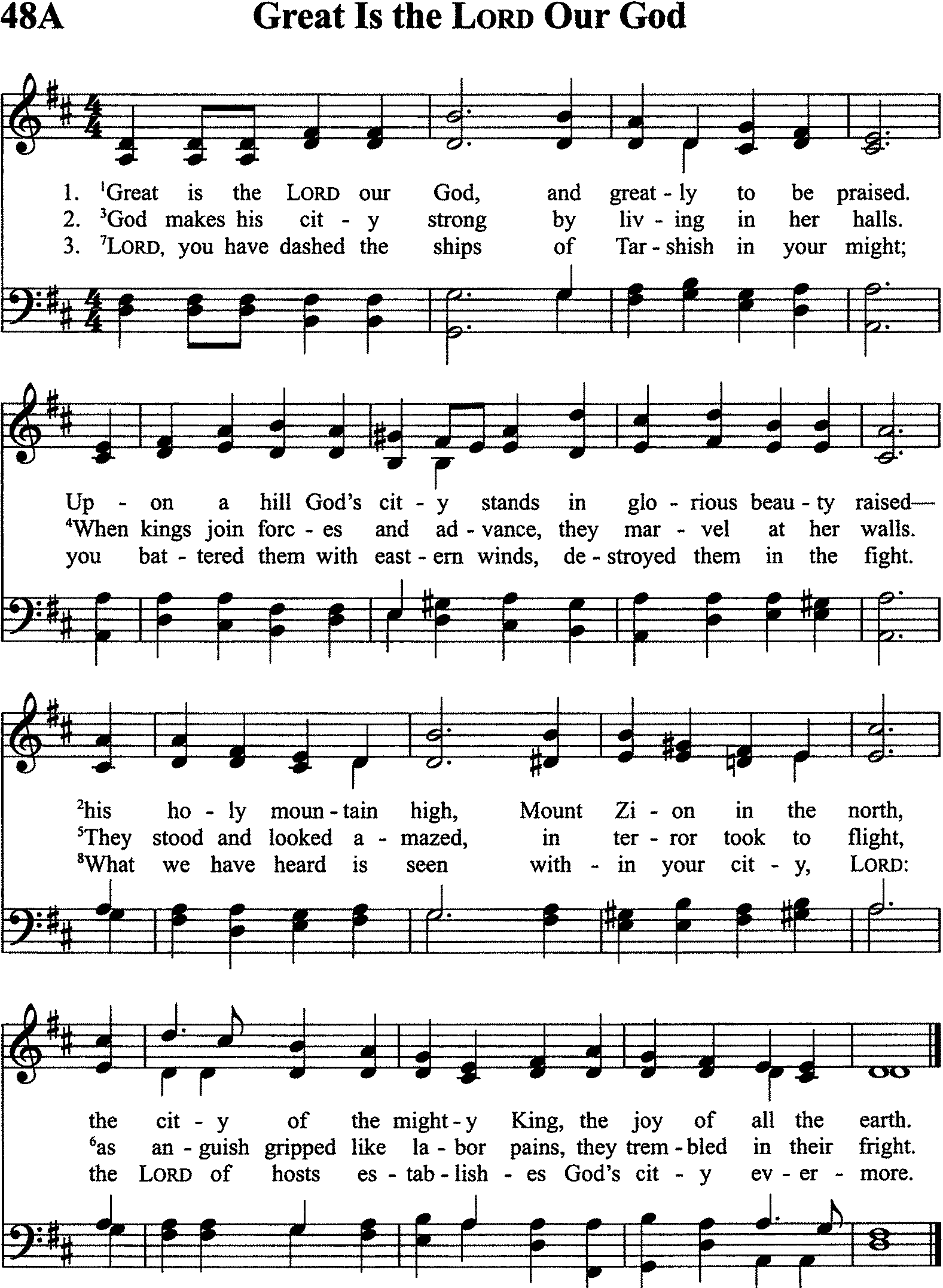 Reading of the Law: Hebrews 3:12–19

(ESV)
One or all can read:
12 Take care, brothers, lest there be in any of you an evil, unbelieving heart, leading you to fall away from the living God. 13 But exhort one another every day, as long as it is called "today," that none of you may be hardened by the deceitfulness of sin. 14 For we have come to share in Christ, if indeed we hold our original confidence firm to the end. 15 As it is said,
"Today, if you hear his voice,
do not harden your hearts as in the rebellion."

16 For who were those who heard and yet rebelled? Was it not all those who left Egypt led by Moses? 17 And with whom was he provoked for forty years? Was it not with those who sinned, whose bodies fell in the wilderness? 18 And to whom did he swear that they would not enter his rest, but to those who were disobedient? 19 So we see that they were unable to enter because of unbelief.
General Confession of Sin
Confess together:
O great and everlasting God, who dwells in unapproachable light, who searches and knows the thoughts and intentions of the heart, we confess that we have not loved you with all our heart, or with all our soul, or with all our mind, or with all our strength, or our neighbors as ourselves. We have loved what we ought not to have loved; we have coveted what is not ours; we have not been content with your provisions for us.
We have complained in our hearts about our family, about our friends, about our health, about our occupations, about your church, and about our trials. We have sought our security in those things which perish, rather than in you, the Everlasting God. Chasten, cleanse, and forgive us, through Jesus Christ, who is able for all time to save us who approach you through him, since he always lives to make intercession for us. Amen.
Silent Confession of Sin
Take a moment to confess your sins privately.
Reading of the Gospel: Isaiah 53:4–6

(ESV)
One or all can read:
4 Surely he has borne our griefs
and carried our sorrows;
yet we esteemed him stricken,
smitten by God, and afflicted.
5 But he was pierced for our transgressions;
he was crushed for our iniquities;
upon him was the chastisement that brought us peace,
and with his wounds we are healed.
6 All we like sheep have gone astray;
we have turned—every one—to his own way;
and the Lord has laid on him
the iniquity of us all.

Confession of Faith: Apostles' Creed
Read together:
I believe in God, the Father Almighty, Maker of heaven and earth.
And in Jesus Christ, His only begotten Son, our Lord; Who was conceived by the Holy Spirit, born of the virgin Mary; Suffered under Pontius Pilate; was crucified, dead, and buried; He descended into hell 1; The third day He rose again from the dead; He ascended into heaven, and sitteth at the right hand of God the Father Almighty; From thence He shall come to judge the living and the dead.
I believe in the Holy Spirit. I believe a holy catholic 2 church, the communion of saints; The forgiveness of sins; The resurrection of the body; And the life everlasting. Amen.
We confess that Jesus descended into hell figuratively, not literally. He suffered the pain of hell in His earthly ministry and on the cross in our place. (See Heidelberg Catechism question and answer 44.)

"Catholic" here means universal, affirming that there has always been and will always be only one true Christian Church.
Family Prayer
One can pray or all can take turns praying for the needs of your family, our church, the state, and the world.
Please pray for the specific requests from our church family:
Please pray for Flora's friends who lost their son Shane.

Please pray for Flora's friend Paulette, who is suffering from multiple health issues.

Thank you for praying for our friend and former member Eric Martinez (Marty and Connie's son) who had a biopsy to test for cancer on Thursday. The test went smoothly but they're still awaiting the results. Please continue to pray for the testing process and for healing.

Please pray for the salvation of  Janie McMillan's son, Steven.

Please pray for a friend of the Morrison family, Hannah Keels, who has advanced cancer. She is a believer.

Please pray for Micha Phatinawin, who was recently diagnosed with mild preeclampsia (a pregnancy complication characterized by high blood pressure). Please pray for a resolution to the problem and that the medical staff would have wisdom in treating her.

The father of Kansas City, Missouri URC minister Rev. Harold Miller is recovering from a major stroke and is not a believer. Please pray for his healing and salvation.

Please pray for Ruth Mendoza, who was recently diagnosed with an aortic aneurysm.

Please continue to pray for Bob Mendoza's sister Carol, whose husband Gabriel passed away recently, and who is also struggling with cancer.

Please continue to pray for Navah, the Mendozas' eight-year-old granddaughter, who is suffering from headaches.

Please continue to pray for Craig Boyd, who is still recovering from a mini stroke (technically a transient ischemic attack, or TIA). He will be undergoing an ultrasound test on his carotid arties (located in the neck) to rule out a contributing cause. Please continue also to pray that his hand would heal after sustaining a serious cut from a fall.

Please continue to pray for Jim Harmsen's brother Rich, who lives in Texas and is recovering from surgery.

Please continue to pray for Jim Harmsen's brother-in-law Bill Bowman, who lives in Visalia, California and is also recovering from surgery and is still in the hospital.

Please continue to pray for Michael McMillan as he recovers from a broken shoulder.

Please continue to pray for Kristina Hedberg as she looks for a job as an attorney.
The Lord's Prayer
All pray aloud:
Our Father who art in heaven, hallowed be thy name. Thy kingdom come. Thy will be done, on earth as it is in heaven. Give us this day our daily bread, and forgive us our debts, as we forgive our debtors; and lead us not into temptation, but deliver us from evil. For thine is the kingdom and the power and the glory forever. Amen.
Hymn of Preparation: I Will Exalt You, God, My King (verses 1-4)
Listen to the tune (plays through 4 verses, with intro):
Sermon — Rev. Tom Morrison
Listen together. Listen online at https://urclearning.org/2020/05/23/1-kings-51-18-whats-in-a-name/. Read along with the Old and New Testament lesson texts below.
(See sermon discussion questions below.)
Old Testament Lesson: 1 Kings 5:1–18

(ESV)
Listen along with the sermon audio, or one person or all can read aloud:
1 Now Hiram king of Tyre sent his servants to Solomon when he heard that they had anointed him king in place of his father, for Hiram always loved David. 2 And Solomon sent word to Hiram, 3 "You know that David my father could not build a house for the name of the Lord his God because of the warfare with which his enemies surrounded him, until the Lord put them under the soles of his feet. 4 But now the Lord my God has given me rest on every side. There is neither adversary nor misfortune. 5 And so I intend to build a house for the name of the Lord my God, as the Lord said to David my father, 'Your son, whom I will set on your throne in your place, shall build the house for my name.' 6 Now therefore command that cedars of Lebanon be cut for me. And my servants will join your servants, and I will pay you for your servants such wages as you set, for you know that there is no one among us who knows how to cut timber like the Sidonians."
7 As soon as Hiram heard the words of Solomon, he rejoiced greatly and said, "Blessed be the Lord this day, who has given to David a wise son to be over this great people." 8 And Hiram sent to Solomon, saying, "I have heard the message that you have sent to me. I am ready to do all you desire in the matter of cedar and cypress timber. 9 My servants shall bring it down to the sea from Lebanon, and I will make it into rafts to go by sea to the place you direct. And I will have them broken up there, and you shall receive it. And you shall meet my wishes by providing food for my household." 10 So Hiram supplied Solomon with all the timber of cedar and cypress that he desired, 11 while Solomon gave Hiram 20,000 cors of wheat as food for his household, and 20,000 cors of beaten oil. Solomon gave this to Hiram year by year. 12 And the Lord gave Solomon wisdom, as he promised him. And there was peace between Hiram and Solomon, and the two of them made a treaty.
13 King Solomon drafted forced labor out of all Israel, and the draft numbered 30,000 men. 14 And he sent them to Lebanon, 10,000 a month in shifts. They would be a month in Lebanon and two months at home. Adoniram was in charge of the draft. 15 Solomon also had 70,000 burden-bearers and 80,000 stonecutters in the hill country, 16 besides Solomon's 3,300 chief officers who were over the work, who had charge of the people who carried on the work. 17 At the king's command they quarried out great, costly stones in order to lay the foundation of the house with dressed stones. 18 So Solomon's builders and Hiram's builders and the men of Gebal did the cutting and prepared the timber and the stone to build the house.
New Testament Lesson: Matthew 1:18–25

(ESV)
Listen along with the sermon audio, or one person or all can read aloud:
18 Now the birth of Jesus Christ took place in this way. When his mother Mary had been betrothed to Joseph, before they came together she was found to be with child from the Holy Spirit. 19 And her husband Joseph, being a just man and unwilling to put her to shame, resolved to divorce her quietly. 20 But as he considered these things, behold, an angel of the Lord appeared to him in a dream, saying, "Joseph, son of David, do not fear to take Mary as your wife, for that which is conceived in her is from the Holy Spirit. 21 She will bear a son, and you shall call his name Jesus, for he will save his people from their sins." 22 All this took place to fulfill what the Lord had spoken by the prophet:
23 "Behold, the virgin shall conceive and bear a son,
and they shall call his name Immanuel"

(which means, God with us). 24 When Joseph woke from sleep, he did as the angel of the Lord commanded him: he took his wife, 25 but knew her not until she had given birth to a son. And he called his name Jesus.
Hymn of Response: Immortal, Invisible, God Only Wise
Listen to the tune (plays through all verses, with intro):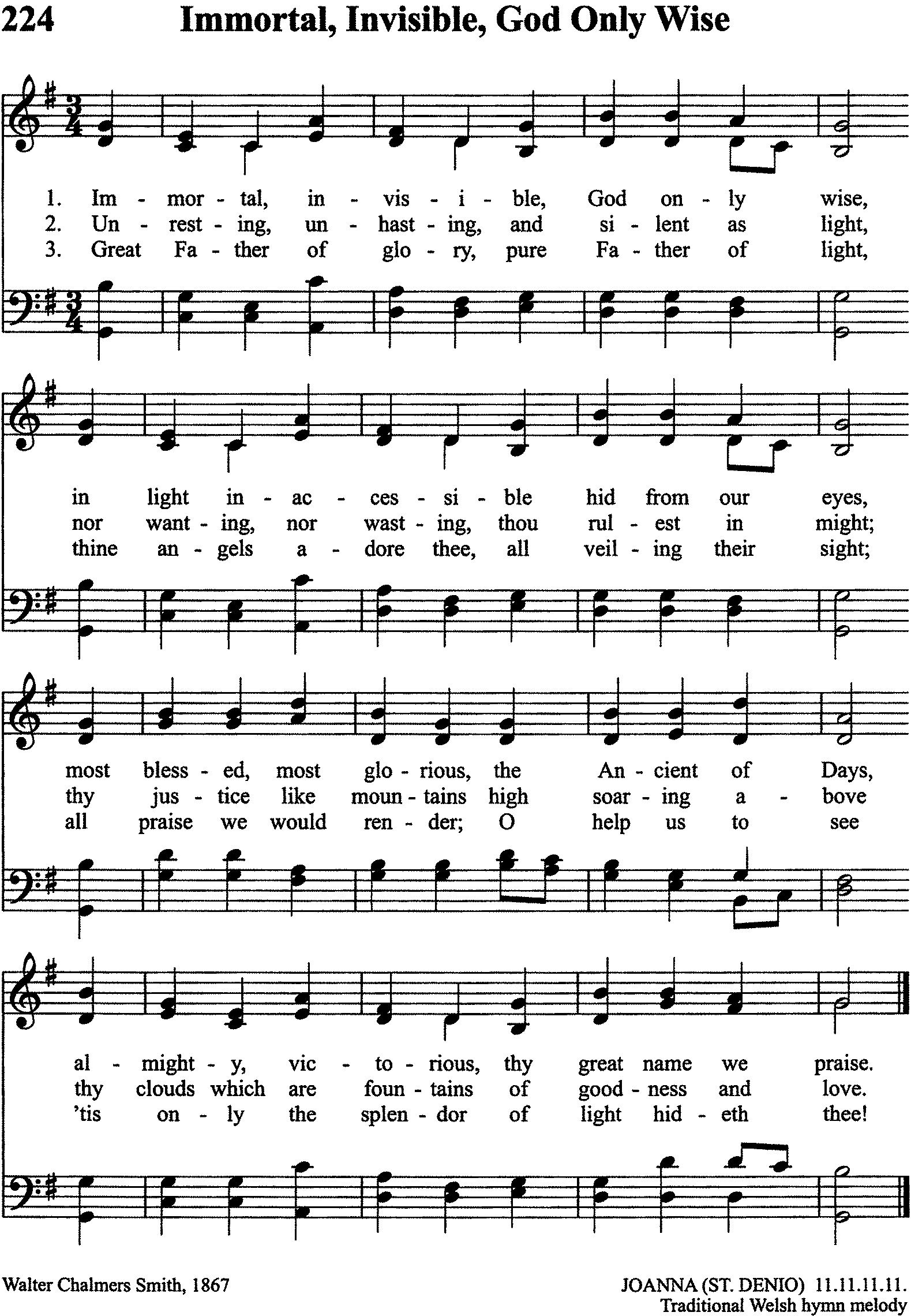 Gloria Patri
Sing together:
Glory be to the Father and to the Son and to the Holy Ghost. As it was in the beginning, is now and ever shall be, world without end. Amen. Amen.
Closing Prayer
One person can pray:
Our gracious heavenly Father, we thank you for your transcendence and your immanence, that you are a God both far away and close. Because of your holiness and power, we can take comfort knowing that you are able to do all things. Thank you for exerting your mighty power to save us at the cross 2,000 years ago. We praise you that the risen Christ is at your right hand interceding for us. Help us this week to have a renewed appreciation for your holy presence in our lives through the Holy Spirit. Fill us with the Spirit so that we might not fulfill the desires of the flesh. In the name of Christ we pray, amen.
---
Sermon Discussion Questions
Who was Hiram and what was his relationship to Israel?

He was the king of Tyre, which was located just north of Israel. He had entered into a treaty agreement with king David, which was reaffirmed through king Solomon. The agreement allowed Israel and Tyre to trade freely.

How many years did it take to build the Temple?

Seven.

In what city was the Temple built?

Jerusalem.
Did Solomon build the temple for God to dwell in or for the name of the

L

ord his God to dwell in? For the name of the

L

ord his God to dwell in.

What is God's name?

Yahweh.

What does God's name reveal?

His character.

What does it mean for God's name to dwell in the Temple? (This is the main point of the sermon.)

For God's name to dwell in the Temple means that God is both far away and close.

What does it mean that God is far away, that God is close?

For God to be far away, or transcendent, is for God to be utterly holy and perfect, distinct from His creation. For God to be close, or immanent, is for God to dwell in the creation He has made. The biblical emphasis, is that He is close to His people comforting them but judges those who deny Him.

How do we hear the Gospel in this sermon?

We hear the Gospel in the birth of Jesus Christ whose name means that He saves His people from their sins. Also, His name is Immanuel, God with us.

Discuss the implications/applications of God's presence mediated through Jesus Christ in worship and also through the Holy Spirit Who indwells all believers.
---
Offering
The church continues to have financial needs even while services are suspended. For your offering, please mail a check to HDURC, P.O. Box 3418, Victorville, CA 92392.
---
Announcements
Please let Pastor Tom know if you have any prayer requests. We can add them here in the weekly worship guide.
The Community Center has canceled all group events indefinitely. We'll contact you when we're able to worship together again.
Pray for URC Missionaries
Mark Van Esseldelft — Associate Missionary with the Orthodox Presbyterian Church (OPC) in Uganda.
Pray for wisdom should we have a widespread outbreak of the coronavirus.
Pray for the locals who suffer in poverty as is. Lockdown for any extended amount of time will cause a much greater suffering as prices rise and access to food becomes scarce.
Pray for peace in the country and that widespread civil disorder would not break out.
Pray for our son Joshua that he would find contentment in the Lord's sovereignty as he had his heart set on going home soon.
Please check urcnamissions.org for regular updates on our missionaries and the COVID-19 pandemic.